DB60 Metronome
Boss DB60 Dr Beat Metronome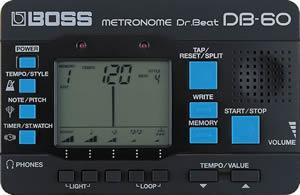 New Metronome available. High Quality, Boss Dr. Beat.
This is a new model from Boss, their other model is much more expensive. I recommend this one for sure as a low cost alternative and something that I know will work well for you with a lot of options. Ross Nickerson

The Boss DB-60 provides a menu of rhythmic patterns, a note-mixing feature to create rhythms that match the feel and style of your music, and the ability to handle time signatures of up to 17 beats per measure.


Boss DB-60 Dr. Beat Metronome Features:
Wide variety of rhythm patterns to play along with
Quickly create original patterns with the Note-Mixing function
Loop play for calling up memory settings and playing the patterns repeatedly
Memory function for storing independent tempos for each song
Tap Tempo, Timer, and Stopwatch functions
Standard Pitch function for tuning instruments
Headphone jack
Backlit display



Batteries included
List 119.50 BanjoTeacher.com price
97.49


Metronomes available at BanjoTeacher.com

Click the metronome you want to find out more about.