Matrix MPU2 Clip-On Tuner Microphone
Matrix Universal
Clip on Banjo Tuner Pickup and Chord
Now you can buy the clip-on banjo tuning pickup for interference free tuning as a separate accessory! Clips onto the banjo bridge and plugs into most brands of tuners.
These work great for no interference tuning. Simply plug it in to a tuner like the CA 30 below and clip it to the bridge. This will provide an uninterrupted signal to the tuner. It works great for fine tuning and especially when there is any outside noise. Also when the tuner clip is on the bridge it quiets the banjo for more private tuning.
Our Price 16.40


People who have bought this item also bought the following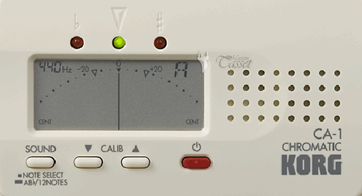 Korg CA-30 Chromatic Tuner

The CA-30 packs basic functionality and convenient tuning functions into ultra-compact bodies.


Features:
· Compact chromatic tuner, ideal for brass band or orchestra.
· High-precision LCD needle-type meter for stable tuning.
· Wide range of pitch detection covers C1--C8.
· Calibration function supports a variety of concert pitches.
· Sound Out produces a reference tone from the internal speaker.
· Auto Power Off function conserves battery life.
· Memory Backup function.
· Approximately 100 hours of continuous use.
For easy, fast tuning, trust this inexpensive and reliable Korg CA-30. Has both a needle and a light!

Other Tuners for sale at BanjoTeacher.com