Dobro Pickup
  Resonator Guitar/Dobro Mic System
Goldtone Dobro Pickup / Resophonic Guitar Mic and Pickup
Attaches to the Dobro
Goldtone ABS Advanced Microphone System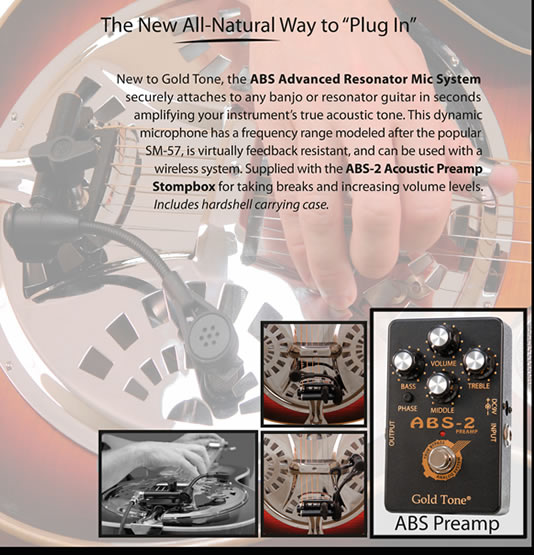 ABS Dobrom Resophonic Guitar Microphone System
ABS Banjo/Resophonic Guitar Information

The ABS system  is essential equipment for the performing banjoist or resonator player.  By attaching a dynamic cardoid microphone to the end of a small gooseneck cable, the ABS reliably captures the music you generate at the precise sweet spot where you sound the best.  Attachment and adjustment for ideal placement is simple and easy.   ABS is shock mounted to prevent the introduction of extraneous vibrations. With no exposed wiring, ABS can be transferred from one banjo to another in seconds.   The ABS system includes a floorbox- type pre-amp (ABS-2) which, when activated by a footswitch, will increase gain (volume) to punch out lead breaks.  The ABS pedal comes with a 9-volt battery.  For those who prefer a more constant power source, an AC adapter is available (ABS-ADT).  Connection to the sound system is accomplished by a normal ¼ " male guitar cable.  Two ¼" guitar cables are required for connection with pre-amp and amplifier.  ABS comes in a hard plastic carrying case with fitted foam inserts for the mic and pedal.
Frequently Asked Questions


Why did you choose a dynamic cardoid microphone?    We tested a broad spectrum of microphones.  We found that the cardoid cartridge provided superiority in accuracy and purity of tone, with less feedback, and as a bonus did not require phantom power.

I know the dynamic mic of choice for on-stage use has been the Shure SM-57. Does the ABS cartridge have a similar frequency pattern? Yes, very similar.  However, banjoists/resonator players  can run into problems with diminished volume when they travel up the neck to reach the highest registers.  To compensate, we increased the sensitivity at the high end to make sure that you get a brilliant response throughout the entire range of your instrument..

What style jack cable is needed? A simple ¼" guitar cable. if you would like to run the  cable behind the strap for stability use a straight jack,  otherwise a bent ¼" jack may be used. If used on a round neck resonator and played in the vertical technique you'll need a ¼" 90 degree cable.

Will I need the ABS-P floor box pedal? We recommend this.  In live sound tests with a Fishman 100 watt amplifier, the gain on the amp needed to be set to 2/3 for proper volume. If using a smaller watt amplifier (or if you want to match the gain of other inputs in your sound system)  the pre-amp pedal will deliver 30% extra gain. Also the pre-amp pedal can be set for increased gain for a lead break by simply depressing the foot switch.

What controls are included on the ABS-P preamp? Volume, bass, mid, treble and a phase switch. If you hear a hollow type tone when amplified, your mic may be out of phase with the speakers and by activating the phase switch it will become matched. 

How long does it take for the mic to be attached to the instrument? Our unique secure design takes less than 20 seconds to attach to the brackets.  Only one thumb screw needs to be tightened.

Can this mic be mounted on any style of banjo or resonator guitar?  In almost every case, the answer is "Yes".   The mounting bracket attaches to the J hooks. Our adjustable bracket will fit hook spacing from  1 1/4" to 2 ¾". On resonator guitars it should fit all 6 strings.

What type of shock mounting does the ABM have to prevent extraneous vibration noise?  The ABS has rubber pads on the mounting bracket and an isolated rubber-mounted mic cartridge.

Can a wireless system be used on the ABS Yes, our dynamic microphone can easily be used without modification

Will I have trouble with feedback using this system? We have not had problems with feedback in our laboratory, but as in the use of any microphone, feedback can occur when high-level speakers are pointed directly at the microphone.
Goldtone Dobro and Resophonic Guitar Mic/Pickup and Preamp



179.00





ABS-C


Banjo Pickup
Uses Phantom Power

No Preamp Needed
We've had enormous success with our ABS clip on mic for banjos and resonator guitars and now have a condenser mic version. It has 50% more gain, uses phantom power and includes a carrying case and connecting cable No preamp needed.

ABS-C needs amp
with phantom power
No preamp needed

$179.00 details