BanjoTeacher.com
Nova Scotia
Banjo Camp
July 26th, 27th, 28th, 2013

Questions?
1-866-322-6567
Bookings 1-800-218-2220, from USA 902 657-2231
Camp Curriculum

Next Camp is scheduled for July 26th, 27th, 28th, 2013
The Nova Scotia Banjo Camp presented by BanjoTeacher.com is a three-day teaching and jamming event in beautiful Nova Scotia Canada. The event will begin Friday later afternoon and conclude on Sunday afternoon with banjo workshop classes, jams, concerts and other activities. The location is set on the shores of the North Thumberland Strait on the scenic Sunrise Trail, just across the strait from Prince Edward Island.
This years curriculum will include Banjo Workshops for Beginner,
Intermediate and Advanced Banjo Students

The workshop with covers these topics and more:
Right and Left Hand Techniques, Backup Playing, Practice Habits and Priorities, Mixing Styles, Up the Neck Work,
Jamming with Others, Rhythm and Timing, Playing in Different Keys and Tunings, Playing by Ear and Learning to Play Without Tablature and much more
.

Instructor Information
Message from the Director, Ross Nickerson

I want to stress that the workshops will be for all skill levels, this Banjo Camp will not be for just advanced students! In fact many students will be in the beginning and intermediate skill level categories. Any advanced students that attend will also be given special attention with their own class taught to them with their present skill level in mind. The classes will be split into groups where students are close to the same level of proficiency with the instructors rotating to the different groups. This approach will ensure that each student will have an opportunity to work with each instructor with their present skill level in mind. It's important to note that the students themselves will choose the skill level group they want to be in. No students will be forced to audition or be judged by the faculty to belong in a certain skill level group. Students have a good idea where they will be most comfortable and you will not be asked to be in a group you are not happy with. The workshops are about you, the student. It is very important to me as the director that you find great benefit in the instruction and leadership of the faculty as well as the class curriculum. It is also important to me that you feel comfortable to learn, as well as not feeling judged or have any of that type of additional pressure put on you.

Curriculum Information
Also Concert and Workshop Flyers with information for the event for downloading below

Download a Flyer

Check out reviews from last year's camp

This years Nova Scotia Banjo Camp bluegrass banjo concert will be held at the
Sharon United Church in Tatamagouche
Saturday, July 27th 8:00 PM More Details

Read a story in Banjo Newsletter about The Nova Scotia Banjo Camp

Read an article in the Halifax Herald about The Nova Scotia Banjo Camp

Reviews on Ross Nickerson workshops

Download a copy of the curriculum for the Nova Scotia Banjo Camp
to get an idea of what to expect

Registration information page

For questions about the Nova Scotia Banjo Camp Workshops, call BanjoTeacher.com at 866-322-6567. Email Us
To register for the Nova Scotia Banjo Camp visit the Tatamagouche Centre at http://www.tatacentre.ca/ or call 1-800-218-2220, from USA 902 657-2231
Wow, what great food, what a location, top notch facility, great people. I can't believe I found such a perfect place for the Nova Scotia Banjo Camp!
Location
The Tatamagouche Centre is located just west of the village of Tatamagouche along the Sunrise Trail (Route 6) on the Northumberland Strait. Centrally located in the Maritimes, the Centre is one hour and 45 minutes northeast of Halifax, one hour and 45 minutes southeast of Moncton and within one hour of New Glasgow, Truro and Amherst. It is also centrally located between the PEI ferry and bridge, less than an hour from each. Visit the Tatamagouche Learning Centre Website
Videos of Ross Nickerson from last years Faculty Concert
Other Accommodations and Information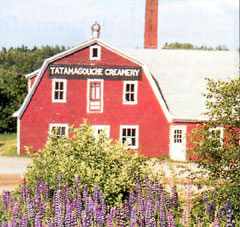 Tatamagouge Creamery Square and Farmers Market
Links to local attraction's
Tatamagouche and the Sunrise Trail
Golf
More Attractions and information

Ross Nickerson's full upcoming schedule of workshops and performances
Ross Nickerson new recording/Click to listen
Under the Double Eagle
Reveiws on Ross Nickerson workshops
Email us at
banjoteachercom@aol.com
or call 1-866-322-6567, 716-698-0557
if more information or help is needed about the workshops curriculum
Camp Homepage
BanjoTeacher.com Homepage