BanjoTeacher.com
Nova Scotia
Banjo Camp
July 26th, 27th, 28th, 2013

Questions?
1-866-322-6567
Bookings 1-800-218-2220, from USA 902 657-2231
Reviews from Previous Camps
WOW!!!! What a great weekend everyone had, the venue was great and the instruction was top notch. I will definitely be back next year. Everyone I spoke to appreciated the patience and humbleness of all the instructors, you were all very approachable and made us feel at ease. The performances that you guys did was awesome. We all liked Bill Keith... he is definitely in a class of his own. His ability to disect the finger board is just mind blowing. Bill Keith's blood pulses with the rhythm of the gods. AWESOME WEEKEND!!!
Thanks again for a great banjo experience.
Hi Ross,
.......just want to compliment you, Keith and Perry on a fabulous week-end. The teaching was exceptional, the meals were terrific, the students were friendly, the books, etc. were appreciated and the concert...whatcan I say, it was beyond belief! I never dreamed I would ever hear such talent, let alone meet such amazing musicians! We all want you back again so I hope you will be able to arrange it for next year.
Hi Ross:

.......Thanks for the email. Just wanted to let you know how much Jim and I enjoyed the weekend. We have never been to anything like that before and it was quite a learning experience. Thanks for all your help.
Ross,
......the thanks is from us to you, for being such a giving host. We all appreciate your efforts and hopefully conveyed our joy at meeting and learning from each of the Banjo Camp instructors we now call friends.
PLEASE keep me on the list for next year's camp should you be able to host such. If you require any help with logistics pre camp, I can only speak for myself but I know this was discussed in small groups, I would be all to happy to assist in any way you might require. Media, posters, etc
.......I thoroughly enjoyed the workshop and left with alot of new information upon which to build. My intention is to attend the next Camp. This time I hope to be better prepared to attend the Jam Sessions. Thanks again for your efforts and those of Ian and Bill. A very enjoyable experience.

.......Ross, the thanks is from us to you, for being such a giving host. We all appreciate your efforts and hopefully conveyed our joy at meeting and learning from each of the Banjo Camp instructors we now call friends.

......Ross: The camp was excellent. I could not make the last day but I definitely got my money's worth. My plan is to atend again next year.If I absorb even 1/4 of what was presented, I will be in the advanced group.
Student from Virginia.......I just want to thank you for putting on the Nova Scotia Banjo Camp. The instruction was great! I appreciated your insight by suggesting that I participate in the intermediate group. I really learned a lot and enjoyed the interaction with the other students. The concert was fantastic and I liked how you shared your take on the performance. Although I didn't get to see much of Nova Scotia this time, I'm hoping that next year the camp will be an "excuse" to allow me to return for a longer time with my family in tow.
......It was a terrific venue for such an event ... the pleasure was all ours to be in the presence of such great instructors , The food was fabulous and I so enjoyed the enthusiasm of all who attended ...(those with banjo fever know exactly what it meant to be in presence of 40 banjo players ) and I want to go again next year for sure.
......I had a good time at Banjo Camp. I'm playing and practicing banjo more now than I ever did and enjoying it so much.I'll always have fond memories of that weekend, it was so awesome with you and your two talented friends playing so incredible.
The Nova Scotia Banjo Camp presented by BanjoTeacher.com is a three-day teaching and jamming event in beautiful Nova Scotia Canada. The event will begin Friday later afternoon and conclude on Sunday afternoon with banjo workshop classes, jams, concerts and other activities. The location is set on the shores of the North Thumberland Strait on the scenic Sunrise Trail, just across the strait from Prince Edward Island.
This years curriculum will include Banjo Workshops for Beginner,
Intermediate and Advanced Banjo Students

The workshop with covers these topics and more:
Right and Left Hand Techniques, Backup Playing, Practice Habits and Priorities, Mixing Styles, Up the Neck Work,
Jamming with Others, Rhythm and Timing, Playing in Different Keys and Tunings, Playing by Ear and Learning to Play Without Tablature and much more
.

Instructor Information
Message from the Director, Ross Nickerson

I want to stress that the workshops will be for all skill levels, this Banjo Camp will not be for just advanced students! In fact many students will be in the beginning and intermediate skill level categories. Any advanced students that attend will also be given special attention with their own class taught to them with their present skill level in mind. The classes will be split into groups where students are close to the same level of proficiency with the instructors rotating to the different groups. This approach will ensure that each student will have an opportunity to work with each instructor with their present skill level in mind. It's important to note that the students themselves will choose the skill level group they want to be in. No students will be forced to audition or be judged by the faculty to belong in a certain skill level group. Students have a good idea where they will be most comfortable and you will not be asked to be in a group you are not happy with. The workshops are about you, the student. It is very important to me as the director that you find great benefit in the instruction and leadership of the faculty as well as the class curriculum. It is also important to me that you feel comfortable to learn, as well as not feeling judged or have any of that type of additional pressure put on you.

Curriculum Information
Also Concert and Workshop Flyers with information for the event for downloading below

Download a Flyer

Check out reviews from last year's camp

This years Nova Scotia Banjo Camp bluegrass banjo concert will be held at the
Sharon United Church in Tatamagouche
Saturday, July 27th 8:00 PM More Details

Read a story in Banjo Newsletter about The Nova Scotia Banjo Camp

Read an article in the Halifax Herald about The Nova Scotia Banjo Camp

Reviews on Ross Nickerson workshops

Download a copy of the curriculum for the Nova Scotia Banjo Camp
to get an idea of what to expect

Registration information page

For questions about the Nova Scotia Banjo Camp Workshops, call BanjoTeacher.com at 866-322-6567. Email Us
To register for the Nova Scotia Banjo Camp visit the Tatamagouche Centre at http://www.tatacentre.ca/ or call 1-800-218-2220, from USA 902 657-2231
Wow, what great food, what a location, top notch facility, great people. I can't believe I found such a perfect place for the Nova Scotia Banjo Camp!
Location
The Tatamagouche Centre is located just west of the village of Tatamagouche along the Sunrise Trail (Route 6) on the Northumberland Strait. Centrally located in the Maritimes, the Centre is one hour and 45 minutes northeast of Halifax, one hour and 45 minutes southeast of Moncton and within one hour of New Glasgow, Truro and Amherst. It is also centrally located between the PEI ferry and bridge, less than an hour from each. Visit the Tatamagouche Learning Centre Website
Videos of Ross Nickerson from last years Faculty Concert
Other Accommodations and Information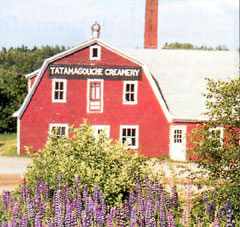 Tatamagouge Creamery Square and Farmers Market
Links to local attraction's
Tatamagouche and the Sunrise Trail
Golf
More Attractions and information

Ross Nickerson's full upcoming schedule of workshops and performances
Ross Nickerson new recording/Click to listen
Under the Double Eagle
Reveiws on Ross Nickerson workshops
Email us at
banjoteachercom@aol.com
or call 1-866-322-6567, 716-698-0557
if more information or help is needed about the workshops curriculum
Camp Homepage
BanjoTeacher.com Homepage