Free Banjo Tab at BanjoTeacher.com
Free Banjo Tablature! right click an save them to your computer.
Free Banjo Tab and Banjo Lessons for members of the mailing list at BanjoTeacher.com. New signups get a free banjo E-Book. All Access Members can download all the past monthly banjo lessons.
Students who join the Banjoteacher.com All access members only site get access to all the past free video lessons, past songs of the month, more tabs, member discounts and the other benefits.


Sign up for the monthly banjo newsletter and get a free E-Book join the mailing list
Free E-book



Click to join mailing list and receive free banjo e-book
Sample of the monthly lessons that are archived on the all access members site

These I do at home and are not up to the standard of the ones we sell but I think
they should still be helpful to you.
You can view the videos in either windows media or on the flash player below. If for any reason your browser will not play the flash movies, There is a link below the flash version of the demonstration videos in easy to play Windows Media Videos.
all access members site
Scroll over the flash player below and click play, if the screen is white, give it a second to load
windows media version sample of monthly banjo lesssons
The Members Site

now has over 90 free videos, 50 lesson and song videos with matching tab, over 100 free tab files, more than 50 Ask the Banjo Teacher columns and instruction articles, Banjo Encyclopedia tips, 25 Ross Nickerson recordings in their entirety, and other assorted help and instruction support. Members also receive a 10 % discount on all instructional items with some accessories and instructional items on sale for even more off.

24.95
New Online Lessons available at BanjoTeacher.com.
The new lessons include over 100 Must Know Licks in nine different important categories of banjo playing. The subjects covered are Beginnings, Endings, and Turnarounds - Must Know Scruggs Licks - Backup Banjo - Up the Neck Banjo - Slow Banjo Styles - Blues Banjo - Bending the Strings - Chromatic, Triplets and Fun Licks, along with Melodic and Single String Styles
Comprehensive Beginning Banjo Book from Ross Nickerson

Learn banjo with all the basics, songs, chords with clear practical helpful to the point banjo lessons. The book is very complete and includes two high quality audio CDs and two hour split screen DVD.
More Information
The Banjo Cruise

Banjo Workshops at Sea!

Have fun in the sun and improve your banjo playing.
Ross Nickerson Performance Videos / 15 in all
Here are some of the other books from Ross Nickerson that you can purchase with more tab, instruction and CD's.
Here are links below to a page that tells more about them.
Rhythm Backup Play Along CDs and DVD For Five-String Banjo by Ross Nickerson

Accents for the melody notes, easy to read tab, rhythm back up band tracks to play along with, comes with CD and DVD.

This book comes with a backup band to play along with, along with large easy to read tab, a lot of tips on playing the chords to the song, memorizing, and fingering help.

Newly Revised and Improved-Available with DVD and CD.
Transkriber software for slowing down banjo licks now available and on sale.
Click here for more info:


Transkriber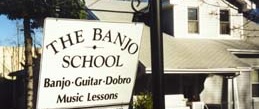 This is my old studio in Catonsville, MD.
Video of instructors performing on the annual Banjo Cruise workshop for banjo cruise to the Caribbean
Click here for video of instructors playing Cripple Creek at the 2005 Banjo Cruise faculty concert


We have banjo lessons online that you can download right to your computer. They include video, soundfile, tablature and text!