Thinline Adjustable Banjo Armrest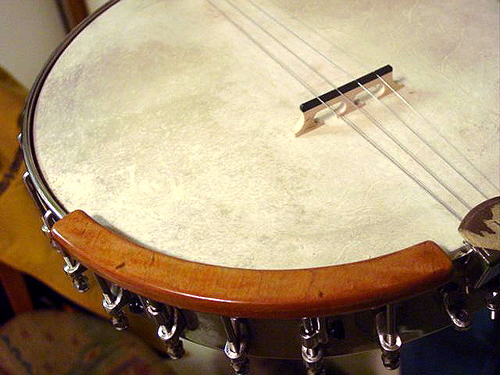 BanjoMate Thinline Armrests


This well made universal Armrest for all hook style mounted heads is adjustable for all sizes. It fits standard Resonator and open-back models. This banjo armrest custom fits old time open back banjos of all sizes. It also fits and is a great armrest for Deering Goodtime banjos.
Made from Solid Surface CNC Machined Corian,
they are available in curly maple and 2 colors, Ivory or Ebony.

Also available in Tigerstripe Curly Maple and Curly Cherry
Unique mounting system utilizes dovetail track with plated mounting pins. (patent pending)
Nickel plated pins (standard) are designed to attach to Banjo's hooks, regardless of spacing.
This is perfect for old time open back banjos that have different distances between the brackets. Also perfect for bluegrass or resonator banjos that are unique and don't have the standard 24 bracket spacing. Of course they work great on normal spacing but this is the only one that I know of that adjusts to fit any bracket spacing. Ross Nickerson
Fits all hook style banjo heads 11" or 12".
Adjusts up & down, side to side and mounts with
custom hex socket-head stainless steel knurled thumb screws.
Hand polished, comfortable, a nice addition to any Banjo.
6 7/8" length, 25/32" top surface
Money back guarantee.
Bela Fleck Demo Video of the thinline banjo armrest below
That's awesome Kathy! I so appreciate your help. You just won a customer for life!
Bless you, your family and business this new year,Larry
Protects your Banjo's Armrest plating from scratches and wear.

Armrest Protector installed, easily snaps together
Helps prevent allergic reaction to plated metal parts.

Click here for more information



I'm sorry but the manufacturer discontinued making these



Video Showing Bela Fleck using a Banjo Thinline Armrest