Goldtone Style 4 Weissenborn Guitar
Style 4 Plus

New for 2012, the Style 4+ is the most accurate production-made replica of a Style 4 Weissenborn acoustic lap steel to date. Goldtone acquired 100 sets of genuine Hawaiian Koa, the original wood chosen by designer and luthier Herman Weissenborn, and built these fine instruments to the exact specifications as the highly sought-after originals built nearly a hundred years ago. To help replicate and capture the true essence of these wonderful acoustic lap steels, we worked with Richard Barnes, renowned luthier from Claremont, California and Weissenborn expert and guru, to help verify every possible specification. We really feel that we have hit a home run with this instrument and we are proud to make these unique sounds available to you in this affordable model. Try one of these limited quantity Style 4+ models today and see for yourself why these instruments are so highly sought after for their rich and unmistakable sound.

Free Goldtone Hard Shell Case and Free U.S. Shippping
Retail is 1900.00
our price $1496
Please call 1-866-322-6567 for price
and to check if this item is in stock before purchasing.
Thanks, Ross Nickerson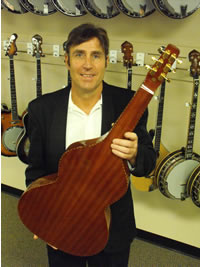 GOLDTONE MODELS AND ACCESSORIES TOO!
*We have most of the models pictured and priced on the website but if you don't see it, we still carry it, and at the lowest price. FAQ
*Check out the pop out links on the right!
*COMPARE OUR PRICES AND ALL WE OFFER WITH EACH PURCHASE - *GOLDTONE BANJOS INCLUDE PROFESSIONAL SETUP A $30 VALUE *Free with banjo purchases Click here to see what comes free with banjo purchases. We have free Book/CDs/DVDs, on board tuners, free banjo lessons with BanjoTeacher.com membership, banjo straps and other freebies. Free items vary depending on what type of banjo.
*Call about discounts offered and what's incuded with each purchase.
*We will match or beat any competitors price! CALL FOR A QUOTE!
*Free US lower 48 state shipping on ALL models! Alaska and Hawaii receive $45 ship credit
* International orders receive $35 shipping fee credit. Email for a international shipping quote * Call for more information banjos 1-866-322-6567 Visa/MC/Discover/AM Express/Paypal

Most banjo's include cases but if you need to add a case go to this page and add one to your order. Case prices are slashed down to our cost but are only available to customers when purchasing banjos, cases not sold separately.

Case options link
No tax with online purchase!
We ship to Canada, Germany, Philippines, Iraq, Italy, Japan, UK, Ireland, Australia, New Zealand. We will ship anywhere!
Thank you! .....When I opened the case, the banjo was perfectly in tune and had a straight neck. It sounds great and I'm very pleased with the product. I am even more pleased with your communication with regard to my purchase. P.S. Thanks for the book too.
More Reviews
Visa, Mastercard, Discover American Express Accepted

Details on ordering Gold Tone Banjos online from BanjoTeacher.com and FAQ
BanjoTeacher.com prices posted below are 25% off retail price, we cannot publish any prices lower than that. Call for more details on pricing. 1-866-322-6567.
We will match or beat any competitors price! Free US shipping on all models.
For Phone orders and more information on GoldTone Banjos at BanjoTeacher.com
Call 1-866-322-6567 10 AM to 10 PM EST 7 days a week