Banjo Teacher Ross Nickerson of BanjoTeacher.com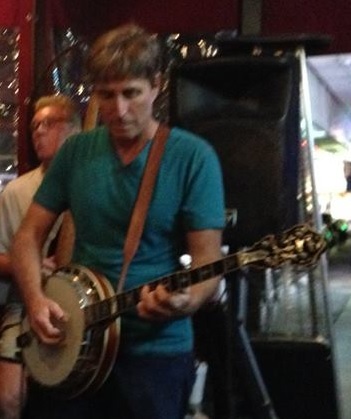 Hi, I'm Ross Nickerson the founder of Banjo Teacher.com.
I hope this website is now and as it grows a great banjo resource for you!
Below is some bio and personal information about me if you would like to know
more about my background.

Ross Nickerson traveling in the US, Canada, Europe, New Zealand, Australia and Africa.

Newest workshops with Ross Nickerson concerts and workshops

Quite a few people have inquired about the equipment I use.
Here is a list of things I use and recommend

Check out the sound bytes page to hear some of what Ross sounds like.



Ross Nickerson has recorded with some of the top names in Bluegrass music. He was recently released on a compilation CD called Ultimate Banjo that included banjo legends, Earl Scruggs and Sonny Osborne. Ross recently appeared on stage with The Riders in the Sky and The Oak Ridge Boys and has picked and appeared with many of the best banjo players in the world including Earl Scruggs, Bela Fleck and Ralph Stanley. Ross's CD Blazing the West has won many awards including being named by Country Music Television as one of the top ten CDs to pick up in 2003. Ross's newest CD is called Let's Kick It that features hard driving traditional Bluegrass Banjo with Ross's own personal touch. Accompanying Ross on the CD are members of the world reknowned Bluegrass Band "Blue Highway"

Throughout his career Ross Nickerson has always enjoyed sharing his knowledge and helping others to learn to play the banjo. His many years of experience teaching privately and traveling the world to hold group workshops has helped him gain many unique insights into the common obstacles facing banjo students today. He has listened to his students, seen the challenges they face, understands what students are craving for and always delivers his practical, focused instruction in a personable and easy to follow manner. Ross Nickerson is the author of the top selling banjo book, The Banjo Encyclopedia "Bluegrass Banjo from A to Z" He has also written and recorded many other books, CDs and DVDs designed to help banjo students save time and learn the fun of playing 5-string banjo easier. Ross is a full time musician and on the road ten to fifteen days a month performing concerts, teaching banjo workshops and reaching new audiences. He has been selected as a faculty member for many prestigious bluegrass and banjo camps and is the founder and coordinator of the Nova Scotia Banjo Camp and the annual BanjoTeacher.com Banjo Cruise. Find Ross at his website BanjoTeacher.com
Ross at home, October 2014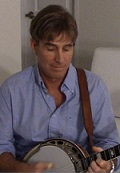 .....I was at the Midwest Banjo Camp - Lansing, MI, last June and watched you play banjo on Saturday evening.You play amazingly well. My daughter and I had never seen anyone play a banjo so cleanly and with such speed before. You are really a gifted artist
.
concert and workshop reviews
Ross Nickerson featured in
Banjo Newsletter April, 2012 Ross Nickerson
By Tom Adams

Making a living with the banjo has always been a challenge, and the current economy certainly hasn't made it any easier. But undeterred by the times and facing great odds, Ross Nickerson has succeeded at doing exactly that very thing.

continued

Ross Nickerson with Band X-Train
Nickerson Schedule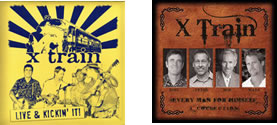 Pictures from Johnny Keenan Banjo Festival, Ireland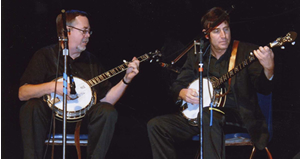 Ross Nickerson, Tony Trishka at concert in Somerset, KY, 2008
New compilation CD featuring Ross Nickerson.

Others featured on the CD are Earl Scruggs, Sonny Osborne, Eddie Adcock, Jim Mills, Greg Cahill, Pete Wernick, Scott Vestal and more. CDs
Ross Nickerson Performance Videos
There are 17 videos in this player at this time,
To view the next video just hit the forward arrow in the player
True West Magazine named Blazing the West the top Bluegrass CD of 2003 in their annual Best of the West issue.

Country Music Television voted Blazing the West as one of the top ten albums of 2003

The International Bluegrass Music Association named Blazing the West one of the top 15 instrumental CD's of 2003.

Tab for Blazing the West is available with the Blazing the West CD and Tablature book Click here for more info
Ross Nickerson "Twenty Questions" Interview Bluegrass Seeds Magazine in England
Ross Nickerson
signature model banjos from Bell Bird Banjos. They're called Nick Kick. This model is called The "Cracka"
Nick Kick Videos Available to the public by order.


The Resnick Ross Nickerson Signature Model Resonator Banjos at BanjoTeacher.com.

Check out the videos
Picture of Ross and his two children, Theo and Jackson Nickerson
Theo is an attorney for the US Dept Of Justice, Office of Immigration and Jackson is an Air traffic Controller in the US Air Force
Picking the Patriotic Medley at the Oak Ridge Boys concert.

Ban-Joey (Joey Bonsall) dragged me up for a number. (twist my arm...) What a bundle of banjo energy Ban-Joey is!

Video of Ross Nickerson sitting in with Del McCoury Band at Calgary Folk Festival click here
| | |
| --- | --- |
| Ross N in Tucson, AZ - 2005 | I performed at the Athy Bluegrass Festival 7-02 in Ireland. Clem O'Brien Guitar. (update, Clem just joined the band The Chieftans") Niall Toner Mandolin. Going to see those guys at the 3rd Annual Johnny Keenan Banjo Festival in Ireland. September 23rd-25th, they are on the bill too. |

These are my children.

I got great kids! :) if I do say so myself.
My daughter Theo has graduated Law School and is a trial attorney for the US Dept of Justice. My son Jackson finished as the top graduate in the Air Force Air Traffic Controllers School. His reward for being top grad was permission to pick the base he's stationed, Ramstein Air Force Base in Germany. He is in Tokyo now and recently was the top grad in Airman's Leardership School. He recently married a wonderful woman from Tucson. I'm very proud of her too.

| | |
| --- | --- |
| | |
| Jackson with his new car in Germany, he likes the autobahn...too much. | My daughter Theo, Bones and me. |
Come to a workshop and meet my dog "Bones"

Bones is the greatest dog! Great traveling buddy! Smart little bugger he is! Very polite to the banjo students too.
| | |
| --- | --- |
| | Playing rock was fun, Deering is quality! |
Banjo Cruise. It took some courage to get this event started but it was a success! It can only get better from here. Check out the

Banjo Cruise

and itinerary we have for this year.

The Banjo School In Catonsville, MD is where I used to give private lessons. I've since moved to Florida and am traveling more holding workshops.
Ross Nickerson signs with Pinecastle Records. 2002
Ross Nickerson with Tom Riggs, President of Pinecastle Records. Tom Riggs received a lifetime achievement award from the International Bluegrass Association this year!
| | |
| --- | --- |
| Matt Ginter after the game!I look a little faint to the right, don't I? Too much KY bourbon, compliments of Ginter the night before, Matt's from Winchester, KY | I might get a hit if they let me use the banjo for a bat, you know I could bunt my way on, eh? |
| | My Daughter Theo and I went to Niagara Falls. Bones too! |
Please Bookmark Banjo Teacher.com and check back as we grow.


BanjoTeacher.com/Accept no imitations!
At BanjoTeacher.com we feature a 30-day money back satisfaction guarantee
on all instruction products and supplies.
Online Lessons and E-Books can be exchanged for Hard Copy Books and DVDs of equal value.
Banjo sales are protected by the manufacturer's warranty, some restrictions apply

Visa, Mastercard, American Express, Discover
and
Paypal accepted

Copyright 2001 - BanjoTeacher.com