Blazing the West Tab Transcription Book for Banjo

True West Magazine named Blazing the West the Top Bluegrass CD of 2003 in their annual Best of the West issue
.
Pinecastle recording Artist Ross Nickerson




Blazing the West Tablature Transcription Book for Banjo
by Ross Nickerson

Easy to read tab with tips on learning the songs, backup tips, notes on each song of Ross Nickerson's award winning CD Blazing the West.

Country Music Television voted Blazing the West as one of the Top Ten Albums of 2003.

The International Bluegrass Music Association named Blazing the West one of the top 15 instrumental CD's of 2003.

Song include: El Cumbanchero, San Antonio Rose, Garcia, Panhandle Rag, Ghost Riders in the Sky, Texas Blues, Red River Valley, Lonesome Cowboy, Jesse James, Don't Fence Me In, Standing Eagle, and Streets of Laredo


Click here to learn more about Ross' CD




Buy Blazing the West Tablature book (spiral bound)
17.95




Buy Blazing the West Tablature book (spiral bound) and CD
24.95




Free US Shipping and Discounts on
Multiple Book and DVD orders

. Details at the

Discounts Page Read free shipping details

Blazing the West Tablature E-BOOK with CD Tracks you can download to your hard drive.
Click for description of the E-book option works
No Shipping/Lower Price. Now available for Immediate Download.
19.95


Banjo and Chord Reference Wall Chart 

Full-size wall chart featuring chords and notes on the fretboard for banjo in G tuning. Major, minor, 7th, maj7, min7, 6, 9, augmented and diminished chords are shown. Chords are shown in a Circle of 5ths progression. Chord fingerings are color coded to show proper finger placement.

Details


Customers that purchased Blazing the West Book also purchased these items
Featuring Banjo Player Ross Nickerson with special guests:

RIDERS IN THE SKY, TIM O'BRIEN, DAROL ANGER, BUTCH BALDASSARI, MIKE BUB, JASON CARTER,JOE CRAVEN,DAVID GRIER, ROB ICKES, LAURIE LEWIS, PETER MCLAUGHLIN, TOM ROZUM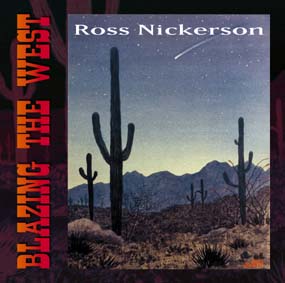 BANJO NEWSLETTER; "Nickerson's playing is tasteful, so carefully arranged, so very very thoughtful and complex".

BLUEGRASS NOW; A successful merge that should encourage others to explore Bluegrass in the Cowboy way or should I say Cowboy music in the Bluegrass way".

TUCSON CITIZEN; No matter what mood or genre Nickerson has the chops to pull it off with brilliance and taste, and the sidemen to compliment every match and turn".

BLUEGRASS UNLIMITED; "Ross Nickerson deserves a lot of credit for coming up with tasteful, appropriate, and interesting banjo versions for such a wide variety of tunes, on some very challenging material".

.....I've been listening all week to the "Blazing the West" CD and am absolutely thrilled with it. Beyond banjo, beyond bluegrass, western music, or cowboy music as I prefer to call it, is my favorite music. Having the chance to listen to both cowboy music AND banjo is just delightful. I hope it will do very well for you and that you'll be encouraged to do a volume II. 8-) Thanks again and best wishes, Brenda Jackson
Review in Sing Out Magazine
Joining Nickerson is an all-star cast, too numerous to mention in full, but which includes the Riders in the Sky, Jason Carter and Mike Bub (both from Del McCoury's Band), Laurie Lewis, Peter McLaughlin, Tim O'Brien and Blue Highway's Dobro wizard, Rob Ickes. Nickerson's playing is clean and powerful, with a lot of drive, but he can jazz things up as well, and it's especially on the cuts where he and Ickes square off that Blazing the West works best. The version here of Leon McAuliffe's "Panhandle Rag" is worth the cost of the disc by itself--the only thing missing is Bob Wills throwing in an "Ah-hahhh" or two. Banjo instrumental albums can be (and often are) tedious.
Songs included are: El Cumbanchero, San Antonio Rose, Garcia, Panhandle Rag, Ghost Riders in the Sky, Texas Blues, Red River Valley, Lonesome Cowboy, Jesse James, Don't Fence Me In, Standing Eagle, and Streets of Laredo.
Click on the
11.95
price link to buy the CD

Ross Nickerson Books, DVDs, and CDs Discounts and Free Shipping on Multiple Book, DVD and CD Orders
Details at the Discounts Page
Click on pictures for more details on each item