Video demonstrations of the ResNick Banjonator
The ResNick Resophonic Banjo
(patent pending)
| | |
| --- | --- |
| | I have six videos of the ResNick below. They are just amateur videos filmed with cam corders but it could still give you an idea of what they are capable of. I was playing the Brown ResNick featured in the picture on the left at the Greyfox Bluegrass Festival. I flipped the camera on while I was picking on the Resnick and have the video below. I had a lot of fun playing the Resnick for a couple days, then someone came by and bought it. They are custom built and can be designed with any color, inlay, and other requests. We are selling these now at 2569 with the opportunity to add certain options or appointments. These are hand built one at a time by someone recognized as one of the best dobro and resophonic guitar makers in the world. What an awesome instrument. |
Ross Nickerson ResNick Demo Videos
Ross Nickerson Banjo Dobros
There are 6 videos in this player,
To view the next video just hit the playlist button on the bottom left

Advanced Tabs / Tab for Little Martha available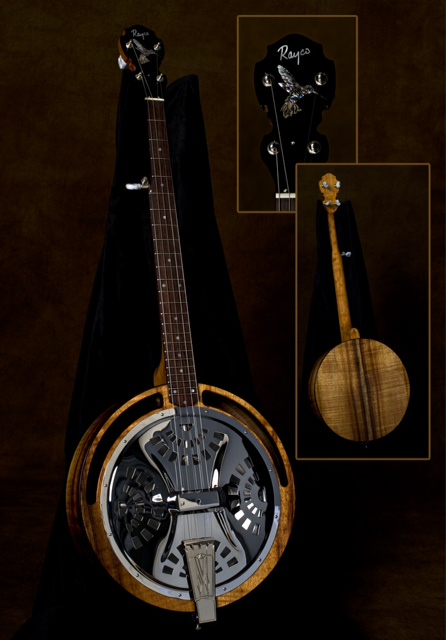 Mark/Ross/And All Who Have Made it Possible --
I retrieved the Resnick from UPS Friday noon and opened it in the evening after work. Its mere presence is a work of art, in and of itself. Its every curve and reflection reveal new beauty. My fingers are delightfully tender with wrists to match. It is lovely beyond all form and tune. I have been practicing Ross' rendition of Little Martha in anticipation of this day. I was not disappointed. I especially love how the resonator holds the notes up to create a waterfall of sound and emotion. I smile with delight at my good fortune for having lived to be blessed with such a moment. Thank you so much for your time, talents, patience and kindness. May sweet music fill your hearts as you have done so with mine.
Sincerely, James R. Dolliver
more reviews

Sound Clip of ResNick being played Clawhammer style by Ivan Rosenburg
We called his "The CrawDaddy"
Sound clip


Call 1-866-322-6567 or email me at BanjoTeacher.com if you have questions or for pre-orders. They are priced reasonable at
$2569.



Construction can start with a 1000.00 deposit.
$1000

deposit





Construction time is 6 to 9 months
questions call 866-322-6567

Free with the ResNick is the All Online Lessons Special, 1 year membership to BanjoTeacher.com
and five Ross Nickerson Instruction DVDs of your choice.

After purchase we will call you to see if you have any custom requests or questions


Larger Videos



To view the larger videos one at at time which may load faster,
here are links to view the five different videos.
Don't this Road Look Rough and Rocky
Ross Nickerson Improv on ResNick
Joy to the World
Little Martha
Haida Nation




New Ross Nickerson Video live at a house concert in New Zealand with his band X Train





More X Train
|
More Ross Nickerson Videos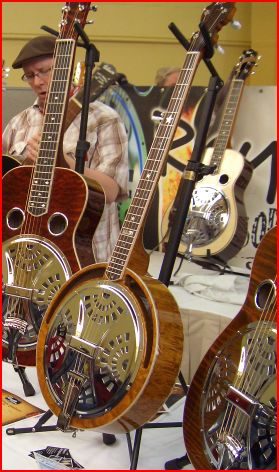 Picture of the ResNick at Winter Grass, With the ResNicks you have options on inlay, finish color and wood as this is a custom instrument.

I received the Resnick this morning and have been playing it all day...It plays beautifully, Thanks.....I've been showing it off all over town and people are loving it. Cool eh? Some of the songs I wrote with a normal Banjo sound so unique with the Resnick. It opens a whole new way of creating music.,
Thanks again  Jack............
Ross Nickerson Books, DVDs, and CDs Discounts and Free Shipping on Multiple Book, DVD and CD Orders
Details at the Discounts Page
Click on pictures for more details on each item