Ross Nickerson Nick Kick Signature Models
The "Bushmaster"
The Bushmaster is an all wood pot banjo. The looks and sound is unreal. It's lighter too and offers whole new sound possibilities to the banjo.


Notes from luthier Peter Nahuysen

The "Bushmaster"

"Tone ring free, full timber pot construction is not new, but the Bushmaster sounds like no other banjo ever made! The secret is the timber in the pot which is an ironwood from the deep, lush forests of north-eastern Australia. The tone is all together amazingly powerful yet woody, sweet like honey but strong as any banjo you have ever played. You'll say 'How can this banjo sound so big and full without a tone ring?' As I said the secret is the timber, and a few other secrets used in cutting the shape of the rim. Matched with a Honduras Mahogany neck and figured mahogany resonator it looks as beautiful as it sounds. It also is comfortably light to hold and is very easy on the back!"  
Peter Nahuysen-Bellbird Banjos

Ebony or Rosewood fingerboard.
Choice of Custom Flying Eagle or Custom Bellbird Inlay pattern (others available on request)
Mirror nitrocellulose finish -in color of choice (see Custom Sunburst note above)
Fultz Straight Line Tailpiece for improved tone, intonation and volume. Gotoh tuners.
5 Star banjo head.
Dual-action truss rod.
Pearl Truss rod cover.
GHS PF 175 banjo strings.
Railroad 5th string capo spikes standard on all instruments at frets 7,8,9 and 10.
TKL Deluxe Archtop Case
$4950.00
Construction starts with $1650 Deposit
$1650.00



Construction time is 3 to 4 months
questions call 866-322-6567
Free with Bellbird banjos is the All Online Lessons Special, 1 year membership to BanjoTeacher.com
and five Ross Nickerson Instruction DVDs of your choice.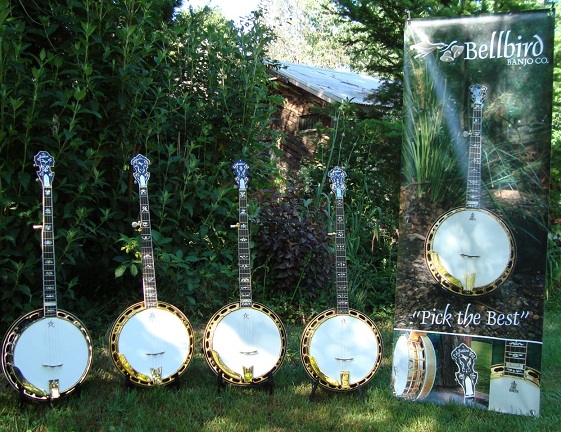 Demo Videos of Bellbird
Ross Nickerson Books, DVDs, and CDs Discounts and Free Shipping on Multiple Book, DVD and CD Orders
Details at the Discounts Page
Click on pictures for more details on each item

All Instruction Books, DVDs and CD's are money back satisfaction guarantee
d.