The Best Banjo Chord Chart
Easy to Read Chord Reference Wall Chart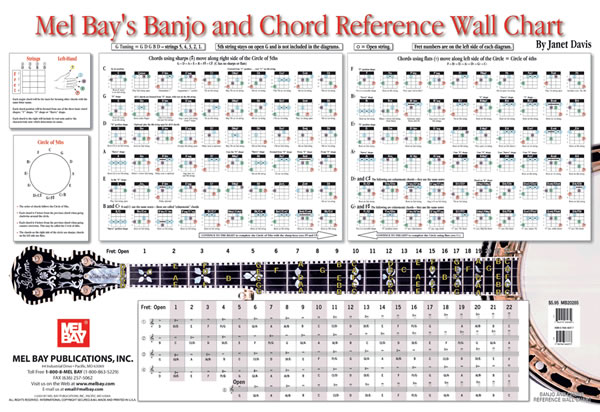 Banjo and Chord Reference Wall Chart 


This is the best and easiest to read banjo chord chart I've seen.
I have recieved really good feed back on these from our students and customers.
Full-size wall chart featuring chords and notes on the fretboard for banjo in 5-string banjo G tuning. Major, minor, 7th, maj7, min7, 6, 9, augmented and diminished chords are shown. Chords are shown in a Circle of 5ths progression. Chord fingerings are color coded to
show proper finger placement.
35 X 24 inches
$9.21

Just a quick note to say a big thank you. My Banjo wall chart arrived today safe and sound.
Its terrific and much better than I had expected. Really appreciate your great service and support.
kindest regards Pete.


Banjo Chords Made Easy DVD
by Joe Carr

Product Description:

This handy DVD takes the banjo student through all the basic banjo chords then moves into some advanced voicings. Chords are shown in all keys. Chords include major 7, minor 7, 6, minor 6, 9, diminished, augmented and many more. DVD format makes navigating easy.

9.95
Ross Nickerson Books, DVDs, and CDs Discounts and Free Shipping on Multiple Book, DVD and CD Orders
Details at the Discounts Page
Click on pictures for more details on each item