The Banjo Song Book by Ross Nickerson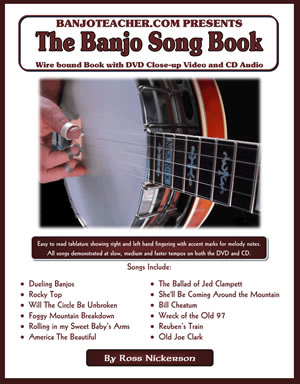 Learn Dueling Banjos and other favorite bluegrass banjo songs from
BanjoTeacher.com and Ross Nickerson with easy to read and use Book, CD and DVD.
The Banjo Song Book


By Ross Nickerson




High Quality Audio CD along with split screen DVD showing both hands close up



12 popular 5-string banjo tunes in tablature with accompanying DVD and CD to learn from.

The Banjo SongBook has been revised with three new tunes. The Banjo Song Book features a top quality CD with the songs at played at three speeds for easy learning and a DVD that shows both hands close-up in split screen.

Accents inserted for melody notes, easy to read tablature, and more.

All Lesson demonstrations are slowed down for easy learning

The Banjo Songbook is a very comprehensive wirebound book that includes text instruction for each song along with detailed tablature showing the picking and fretting hand used, as well as accent marks inserted for melody notes.

Includes Dueling Banjos, Rocky Top, Foggy Mountain Breakdown, Beverly Hillbillies, Circle Be Unbroken and more.
The Banjo Song Book features free US shipping (see below)
Reviews
Ross, Your lessons and teaching methods are the best!  I've purchased a lot of books and dvd's from other artists, but find your way to be the best.  I flew thru your Beginning 5 string Banjo and can play all songs at about 85 bpm on my metronome. Never played a banjo before getting your book.  You make it fun.  The Banjo Song Book looks great and can't wait to get goin on that. 
BTW - got your new CD and it's awesome!
Thanks , Doug

......Ross, Thank you, thank you, thank you. I learned more from your book and tapes in an hour, than in nine months with other sources. I am 64 and was beginning to doubt that I could ever learn to play the banjo. Now I believe I can do this! You are my new banjo hero, next to Kermit of course! Thanks again. Mallorie

From Great Britain
i got the song book and dvd this morning. excellent tuition close-up photos top quality dvd and easy for any banjo player to learn. thank you Ross for all the great tuition i had from you so far, best regards Ray.

More Reviews


Songs included are:
Dueling Banjos, Wreck of the Old 97, Rocky Top, Bill Cheatum, Reuben's Train, Ballad of Jed Clampett, Foggy Mountain Breakdown, Old Joe Clark, She'll Be Coming Around The Mountain, Will The Circle Be Unbroken,Rolling in My Sweet Baby's Arms and bonus song; America The Beautiful.
Hear a soundclip of Foggy Mountain Breakdown
Video sample below

The arrangements of these songs are all rooted in the Earl Scruggs style and accent the melody. They are great for students at a beginning and intermediate level that want to expand their repertoire with some easy to play arrangements of popular five string banjo tunes. They aren't terribly complex but they sound great. There are also tips included for each song to help you learn them easier. Between, the CD and DVD of the songs performed at three speeds and the extra heads up tips and instruction, you will really have am advantage..

Available in split screen close- up high quality DVD
All the songs include easy to read tablature and a CD and DVD recording by Ross Nickerson of each song at three speeds to hear the banjo at a slow, medium and fast tempo for easier learning.
Banjo Video Sample of The Beverly Hillbillies Theme



DVD available for the banjo songs!
DVD, Spiral Bound Book, and CD
The Banjo Song Book with CD and DVD
is Free Shipping for US RESIDENTS
39.95

Free US shipping details
Purchase the book with the two CD's / No DVD
for
19.95

Not free US shipping
Special Offers

with The Banjo SongBook
Includes

Free US Shipping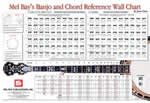 Banjo and Chord Reference Wall Chart 

Full-size wall chart featuring chords and notes on the fretboard for banjo in G tuning. Major, minor, 7th, maj7, min7, 6, 9, augmented and diminished chords are shown. Chords are shown in a Circle of 5ths progression. Chord fingerings are color coded to show proper finger placement.
Details
Customers that purchased the Banjo Song Book also purchased these items
........Your Books are the best thing I found on the market for Banjo


More Customer reviews on The Banjo Songbook
E-Book with CD Tracks option for the Banjo Song Book


The E-Book Option doesn't come with the DVD but if you were just wanting the Book and CD, this could save you some money and shipping expense. The E-Book is a PDF file of the book that you print out off your computer. The CD tracks of the songs played at three speeds you download from a zip file to your hard drive.

E-Book for the Banjo Song Book


15.00


Ross Nickerson Books, DVDs, and CDs Discounts and Free Shipping on Multiple Book, DVD and CD Orders
Details at the Discounts Page
Click on pictures for more details on each item