The Nick Bridge
Handmade Bridge Banjo for BanjoTeacher.com

The Nick Bridge is a handmade custom bluegrass banjo bridge that produces excellent tone. The bridge on your banjo has a
dramatic affect on the tone, tuning and clarity of your banjo.

If the Nick Bridge is not an improvement over the banjo bridge you have or you are not satisfied in any way, you can return it for a full refund.


The Nick Bridge is made for me by a top banjo bridge builder. He makes them from the best wood for building banjo bridges and really knows what he is doing. This is not a machine made bridge but built one at a time from an expert on banjo tone and how the bridge on a banjo affects tone and tuning. When Snuffy Smith passed away I had to go on a search to find a replacement for building banjo bridges. Losing Snuffy Smith was such a shock, I still can't believe he is no longer with us. Through research with my sources for tone and quality I found one of the top guys for making bridges and organized to offer the Nick Bridge. They are handmade one at a time and tested for tone, tuning and purity.
I have them in the three main sizes and I can have other sizes made on request. email
Ross Nickerson, owner BanjoTeacher.com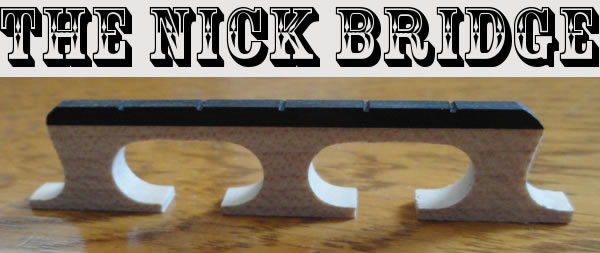 The Nick Bridge