Scruggs' Style Instruction
for Five String Banjo by Ross Nickerson
Earl Scruggs passes away after leaving a legacy that will never be forgotten.
March 28th, 2012
All banjo players will be remembering how Earl Scruggs touched their lives. I know I will.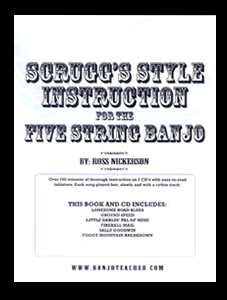 Hear Ross Nickerson perform six Earl Scruggs banjo classics at two speeds followed by detailed instruction with many Scruggs' Style insights and tips.

Hear hard to get licks slowed down and get banjo instruction from someone that knows how to help you build a foundation.

The valuable lessons on Scruggs banjo style you'll learn from this book and two CD's can help every aspect of your banjo playing.

Hear a sound byte of the faster version of Foggy Mountain Breakdown played by Ross Nickerson
"I am enjoying the personal instruction of a pro". John Hiatt, MD
more reviews






Songs Include:
Lonesome Road Blues, Little Darlin' Pal of Mine, Fireball Mail, Groundspeed, Sally Goodwin,
and Foggy Mountain Breakdown

The book includes tablature for up the neck solos and breaks for Foggy Mountain Breakdown, Little Darlin' Pal of Mine, Fireball Mail, a solid low break for Lonesome Road Blues, and some other tasteful innovations in solid bluegrass Scruggs Style. The tab for Fireball Mail, Lonesome Road Blues and all the other songs included is easy to read and includes the chords to the songs, also right and left hand fingering notations for more difficult passages.

The Scruggs Style Instruction for Five String Banjo book with two CDs is not for brand new beginners. It is more suited for new intermediate or intermediate players who understand the fundamentals and feel they are ready to learn by only reading the tablature and listening to the CD. The CDs have the songs recorded slower and up to speed along with backup band rhythm tracks to play along with as well as verbal audio instruction on each song but the tablature booklet does not include text instruction.
If you looking for the best right from the beginning 5 string banjo book with CD and DVD, read about,
Beginning the Five String Banjo by Ross Nickerson
Reviews on Scruggs Style Instruction
"Your arrangement is as close to Earl as I have ever heard and your instructions are breaking it down into digestible pieces so I'm actually making progress each time I sit down. It is the best value in instruction That I have come across to date. I will buy more once I have this down"
Yesterday I received his Scruggs Style instruction book and 2 CD set, and lemme tell ya'll - I am blown away but the instruction on it! I learned more in 20 minutes of listening to the first CD and just floowing along with my finger in the book - NO banjo in hand! - than I did the first few months of lessons I took!
I am DEFINITELY going become a member there, and also am picking-up his other instruction books. He is explicit even down to where and why to put the odd finger on the odd string, and how that flows into the next chord. Best part is the recorded back-up band, minus the banjo recorded at both slow (beginner-level) and full speeds.
If I can get more actual lessons from Ross through the internet without having to chase him all over the world, then I will gladly pay the price asked! No wonder his site is named "BanjoTeacher.com" - that's exactly What he is!
....just ordering the book and cd's for scruggs style thanks a bunch! i'm having fun finally learning the right way to pick the banjo i'm a very pleased customer...

....Just what I was looking for, too bad all banjo song books don't come with the songs in complete form like this one. Thanks for the great instruction material, Bob

I got the booklet yesterday - wow that was fast! I already started using the lessons - great dvd and book. Thanks again, Carlos


Earl Scruggs Book and CD

The Scruggs Book at BanjoTeacher.com

Learn the style of Earl Scruggs from the master himself. The Earl Scruggs book has been revised from its original version with easier to read tablature and the cassette audio tape is now on CD.

details
Also available as an E Book with CD Tracks for both CDs
that you download in one zip file from a secured webpage

E-Book with CD Tracks/Now available as an immediate download, no shipping, no waiting

Purchase Scruggs Style Instruction for 5-string Banjo by Ross Nickerson for 4.95 off and no shipping charges with this E-Book option. When you purchase, you get instructions with username, password and link automatically after checkout. At the webpage you can download the Book in PDF with all the tracks from the CD. You can either download the tracks to your hard drive or keep returning to the webpage and simply click on the individual track links when working with a song. This version includes 24 two measure rolls at three speeds to learn and practice with. Also included are the Tabledit tablature files that can be used to hear the songs on your computer

Other Special Offers

with Scruggs Style Instruction Book
Includes

Free Shipping
More Reviews
I just received the instruction book on Earl's style instruction and listened to the CD, and it's simply fantastic! I'm not really a beginner but I didn't practice seriously! This method'll help me a lot, and I'm sure that in a short time I'll improve my technique a lot! Thank you for this, and I'll need to increase my speed and to work more...... Gerard Poisson
"I want to get the clear cut definition I hear in your playing". Alton Wagner, PA
"Nickerson...not just a good player but a really great player". Bob Piekel, Banjo Newsletter
"The sound is crisp and dynamic, unlike many other instruction CD's I already own". Ralf R. Australia
"It would take pages to relate how much enjoyment I get from you Scruggs Style tapes". Linda Gorchinsky, PA
"I am enjoying the personal instruction of a pro". John Hiatt, MD
Customers that purchased Scruggs Style Instruction also purchased these items
Ross Nickerson Books, DVDs, and CDs Discounts and Free Shipping on Multiple Book, DVD and CD Orders
Details at the Discounts Page
Click on pictures for more details on each item

All Instruction Books, DVDs and CDs are money back satisfaction guarantee
d.