Strings for the Banjo
Strings available at BanjoTeacher.com

Below we carry 5-string banjo strings, 4-string tenor banjo strings, 4 string plectrum, 6-string banjo strings and also ball end banjo strings.

5 String Banjo Strings all gauges
4 String Tenor Banjo Strings /4 string Plectrum Banjo Strings / Six String Banjo Guitar Strings / ResNick Strings

Best Bluegrass Banjo Strings

I really like GHS strings, they work great and they have the best custom sets available for banjo.
I use the PF 175's but the other sets also have intelligent gauge selections depending on what you want. If you aren't sure what's best for you.
Beginners likely would choose one of these three sets. Lightest gauge PF 140, next step up would be the GHS PF 150 Banjo Strings or try the ones I use, the PF 175's

GHS Five String Banjo Strings

GHS Strings

5th-G, 4th-D, 3rd-G, 2nd-B, 1st-D

Notes to tune the
5-string banjo to.

G tuning for 5 string
bluegrass banjo

The key of G.

GHS Strings GAUGES listed in this order 1st-D 2nd-B 3rd-G 4th-D 5th-GStainless Steel String Sets

PF135

L10-11-12-20-10


(medium/light gauge)
4.95
PF140 L09.5 L11 L12 LW20JD L09.5
(light gauge)
4.95
PF170 L09 L11 L13 LW20 L09
(light gauge)
4.95
PF185 L10.5 L11.5 L13 LW20JD L10.5
(medium light gauge)
4.95
PF175 L11 L12 L13 LW22 L11
(medium light gauge) what I use
4.95
PF180 L11 L13 L16 LW24 L10
(medium/heavy gauge)
4.95

Phosphor Bronze Fourth String Sets
PF150 L10 L12 L14 LB22 L10
(medium gauge)
4.95
PF160 L11 L13 L16 LB26 L10
(medium/heavy gauge)
4.95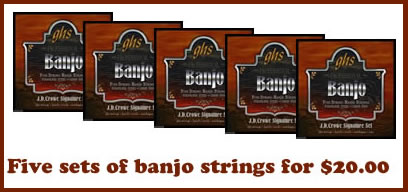 On sale this month
5 sets of either GHS PF 140, 150, or 175 for $20
5 sets of GHS 140
Light gauge 20.00


5 sets of GHS 150
Medium gauge 20.00


5 sets of GHS 175
Med Light gauge 20.00

Two sets of Strings at a Discount

Two sets of
PF135 strings
9.00

Two sets of

PF140

strings

9.00

Two sets of

PF150

strings

9.00

Two sets of

PF160

strings

9.00

Two sets of
PF170 strings
9.00

Two sets of

PF175

strings

9.00

Two sets of
PF180 strings
9.00

Two sets of
PF185 strings
9.00
This Neck Support for changing banjo strings easier is low cost and folds up conveniently.
details

This is protective mat is great for laying your banjo down on while changing banjo strings or doing other banjo set-up work.
details
Below are Banjitar, six string banjo strings, 5-string ball end strings,
4-string plectrum banjo strings and 4-string tenor banjo strings.


Five String Banjo D'Addario

5-string
Light Gauge by D'Addario

String Gauges 009 .011 .013 .020W .009


4.95


5-String

Nickel Wound Medium Gauge

String Guage .010 .012 016 .023 .010

4.95


Two sets of

Daddario Light J60

strings

9.00

Two sets of
Daddario 5-String Ball End J69B strings
9.00
4 string Tenor Banjo, Plectrum
and Irish Tenor Banjo Strings

4-string Plectrum Banjo Strings
(Loop End) Stainless Steel

String Gauges 011 .014 .017 .0260 W

4.65

Light Gauge TENOR Banjo Strings

(Loop End)

GHS Set 220
Stainless Steel
L101/2 L12 LW20
LW28
4.95




4-String Tenor D'Addario J63 Nickel Tenor Banjo Strings


(Loop End)

String Gauges

009 .016 .023 .030W

4.65

Irish Tenor Banjo Strings

(Celtic)

(Loop End)

String Gauges
L14 - LW24 - LW32 - LW42
7.90
Six String Banjo Guitar Sets
ResNick Resonator Strings

back to top

Finger Ease for
Squeaky Banjo Strings

Eliminates drag on the banjo strings and on the back of neck. (2.5 oz.)
It can't hurt to have a little help with playing the banjo faster
5.90

Planet Waves Headstand String Changing Stand

Your lap is no place for a string change. This string changing stand supports the banjo, making changing a string a hassle-free necessity.

This little stand works as promised. It can be folded flat so it is portable.

The Planet Waves Headstand provides secure support to banjos, guitars and basses for hassle free string changes and instrument maintenance.

The compact design folds up for easy storage and the soft, over molded contact points will not damage instrument finishes.

Regular price 16.95
Our price 12.95

Details
Here at BanjoTeacher.com we do everything we can to make your
experience a positive one and always provide the best customer service.


I'm glad I discovered BanjoTeacher.com. You have nice products and friendly service.
I'm teaching my 11 year old son the banjo, and we got started on the Banjo Encyclopedia today.
I know it will be very useful and very helpful. Thanks! Rob Nason
BanjoTeacher.com Member Site details