Banjo Tuning Pegs
Cheat-A-Keys
D-Tuners that WORK
REALLY WORK!!

No Drilling required.
Fast accurate Banjo Tuning

Now you can spend less time setting screws on D-tuners and concentrate on using the tuners when you need them. These really work and don't require any modification to your banjo. By using these tuners it allows you to use the normal pegs on your banjo for tuning without needing to set, un-set or work around the screws on normal D-tuners.

D-tuners are used so you can easily go between G and D tuning. They are also used for specialty songs that are fun and add a lot to your playing like Flint Hill Special, Earl's Breakdown and Foggy Mountain Chimes.

I guarantee the tuners, if for some reason they do not fit or work for you, or you just don't prefer them, I have a 30 day money back guarantee on the tuners. They really do work, I am using them. They come on and off easy too. I don't always need D-tuners and I can put these on and take them off as I feel like it. Then I can use my regular tuning pegs without having to work around the set screws that are on normal D-tuners while doing every day tuning, and at shows. I am really, really impressed with these.

The inventor is the president of the Model Airplane Association. He manufacturers all kinds of machined products. He is a banjo player and student himself, I met him at one my banjo workshops in Ireland. He was in Ireland landing the first ever Trans-Atlantic flight of a radio controlled airplane.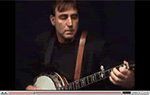 This style of tuner is similar to the original that Earl Scruggs used but the key to this version is it requires no drilling in to the headstock. They go on and come off easy. Again, if you try them and they don't work, you can send them back for a refund. I'm confident you will like them.They are now available in a wide version for Gibson Bowtie model, Goodtime banjos, or other extra wide peghead!

Choose what size you want in the purchase box below. If you get the normal size, and you needed the bigger size, you can return it for exchange.The list price on these is $175 and I sell them for $149.

See a demonstration! I filmed myself describing and demonstrating the new tuners. Click here to download or view video The tuners come in standard and a wider size. Look at your peghead and see how wide it is in the center. The standard size is shown in the picture above. You can call me if you need advice on the size. Also, if the size you get does not fit properly we will exchange them at no extra charge. 866-322-6567
| | |
| --- | --- |
| | |
"Keith" Pegs
Bill Keith Beacon Banjo
Stainless Steel D Tuners

Stainless Steel D-Tuners 2/3

Set of 2 (For second and third strings)

Our Price $219.00


The stainless ones are pictured, we sell the stainless, gold plated and the standard Keith tuning pegs.


Stainless Steel
Tuning Pegs Set of 2

New Keith Tuning Pegs have the same quality of construction that has made our Keith Banjo Tuners famous.
There is no finer tuning peg available today, and they're built to last a lifetime. Fit standard 3/8" pegholes.

Retail $110.00
Our Price $109.00



Gold Plated
Tuning Pegs Set of 2

New Keith Tuning Pegs have the same quality of construction that has made our Keith Banjo Tuners famous.
There is no finer tuning peg available today, and they're built to last a lifetime. Fit standard 3/8" pegholes.

Retail $137.50
Our Price $136.00

Schaller D Tuners

Schaller Sealed D Tuner banjo pegs, Set of 2, Nickel, with Pearloid knobs

4:1  
  Adjustable upper and lower stops.
For use with 2nd and 3rd strings.
Fits 10mm diameter pegholes

Thumbscrew-adjustable upper and lower "stops" and different diameter string posts allow quick tuning between the keys of G and D on a 5-string banjo. Details