Goldtone Orange Blossom 250
OB-250


from Goldtone Banjos and BanjoTeacher.com

The OB-250 has been called the "best bluegrass banjo" in it's price range ! A slim neck and excellent setup make the OB-250 a great choice for the serious bluegrass musician. The quality and price makes it a great step up for the intermediate player and for that matter with the price like this its a great banjo to learn on.

The new OB-250 has been redesigned and now includes maple binding, GT Master Planetary Tuners, 1st fret inlay, One piece curly maple veneer on the resonator, and a new gorgeous tobacco brown finish.

Instrument comes set up and ready to play.

Video Demo of the Gold Tone OB 250

demonstration of the Gold Tone OB 250 by Ross Nickerson

Soundbyte performed by unknown banjoist from GoldTone Banjos.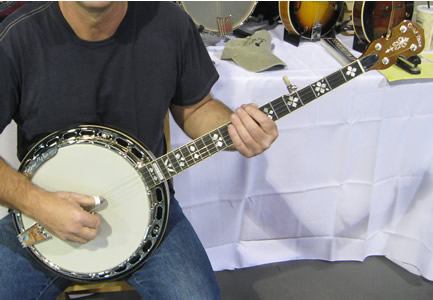 Does this look like a banjo that only costs this much? It looks and
plays like a $4000 to $5000 dollar banjo.
Wayne at Goldtone has really perfected this model without raising the price.
I have a demo video of the OB 250 and OB 250 Plus
also a close up description on video.
My price is very good on this model
and it comes with free shipping and hard case, not to mention
the free Book/CD/DVD offer and members only site
subscription with each Goldtone purchase. Ross N

These items pictured below are
Free at BanjoTeacher.com with this purchase.


Free Book/CD/DVD
with purchase
Comprehensive two hour Beginner DVD with 52 page book and two audio CDs. Also 4 more free DVDs with this model
click for details


Free one year membership to BanjoTeacher.com


BanjoTeacher.com members site now has over 90 free videos, 50 lesson and song videos with matching tab, over 100 free tab files, more than 50 Ask the Banjo Teacher columns and instruction articles.
click for details

Free Hard Case

Your banjo comes with this free deluxe TKL hard shell case, reg retail price 199.95

click for details

New Clip-on Gold Tone Tuner


Goldtones new innovative tuner is the best Clip-on tuner available for banjo.

Retail price is $30

click for details

All Online
Lessons
available at BanjoTeacher.com
Free with this Banjo

All the Video, Audio and Tablature lessons available
by Ross Nickerson

Normal discounted Price of $89.00

click for details



Five Banjo Instructiional
DVDs Free

Normal 5 DVD discounted Price $99.00 click for details
Demo Videos of Goldtone OB 250 and OB 250 Plus

Purchase from an expert
The large corporate chains don't ship Goldtone banjos set up and ready to play.
Their employees don't play banjo and know nothing about them.
Purchase at Banjoteacher.com from an expert!
What's Included with your Banjo Purchase at BanjoTeacher.com
BanjoTeacher.com prices are 25% off the retail price and include free US shipping,
complete banjo set-up and other other free items listed on each banjo's individual page.
Call Ross if you have questions or need advice.
I personally answer all calls and if I am on the other line, I return calls promptly.
Callers can also choose another DVD or substitute free items
Call toll free: 1-866-322-6567
Demo Video Homepage
Banjos come set up and ready to play
Each banjo is played before it leaves the shop!
Along with the strict quality control that Goldtone is known for and the banjos being checked
very carefully before being shipped, each banjo is given a 12 point inspection, full head tuning,
setup and will arrive tuned and ready to play.
Goldtone OB 250 Reviews
Ross, Six months ago I purchased an Orange Blossom 250 banjo from you. I am extremely happy with this purchase and will recommend your site to my friends for years to come. Your recommendation for this banjo was perfect and I can not emphasize how happy I am with the banjo and the included instructional DVD's. Thank you for making my passion more enjoyable.
Very Respectfully, David

…..Ross I received my Gold Tone OB-250 last week and absolutely love it! I've also purchased the Banjo Encyclopedia and have started to wade through that as well. I started playing the banjo about three years ago, learning on an inexpensive model I bought at a local store. I was disappointed with my progress and put it away for almost two years, mostly because I could never keep it in tune. The OB-250 exceeds my expectations and I'm anxious to get started again!  Thanks for everything! Del (Michigan)

....I have to admit I was not expecting what I got. I own a 20 year old banjo that was hand made in Kentucky and is an absolute delight. I didn't think anything would come close to it but I figured a "store bought" could be my workhorse, campfire banjo. Surprise. The OB250+ is a real gem with a slightly stronger voice than my handmade. I like it as much or more than my old banjo. It feels great to play and with a few hundred hours of playing will get even better. The neck, with its tiger stripes and the inlay and all are pleasing just to look at and even the case is a cut above other cases!
So anyway. Thanks again. It really meant a lot and you really came through for me.
Ross, This is Adrian Conley in Kentucky.  Received my new OB-250 today. 
Couldn't be happier.  It's beautiful and sounds unreal.  Thanks so much again for all the help. 

OB 250 / Customer from Netherlands
Hello Ross, I just received the banjo and ten minutes later The banjo encyclopedia. The  banjo is perfect and so is the hard case. The instrument just looks great, really much much more than I expected.  Great sound too. And now we have to practice. I'm sure I will have lots of fun playing this banjo. Many thanks, Wim. By the way, there is even a spike at the 8th fret.

OB 250 Customer from New Zealand
....Hi Ross, Thank you for forwarding banjo. I am now the very proud owner of a Goldtone OB 250,which arrived in New Zealand on 19th March in excellent condition. For many years I have wanted to play the 5 string banjo and now that I am semi retired I look forward having a go. I'm delighted with the learners package.


OB 250 Left handed Banjo to Calgary
Hello Ross I received my lefty OB 250 the other day. It looks good and sounds great! I am a happy customer.Thank you Sandy Aberdeen Calgary Alberta
More Reviews
For Phone orders and more information on
Gold Tone Banjos at BanjoTeacher.com
Call
1-866-322-6567
Email us
Visa/Mastercard/Discover/Paypal
GOLDTONE MODELS AND ACCESSORIES TOO!
*We have most of the models pictured and priced on the website but if you don't see it, we still carry it, and at the lowest price. FAQ
*Check out the pop out links on the right!
*COMPARE OUR PRICES AND ALL WE OFFER WITH EACH PURCHASE - *GOLDTONE BANJOS INCLUDE PROFESSIONAL SETUP A $30 VALUE *Free with banjo purchases We have free Book/CDs/DVDs, on board tuners, free banjo lessons with BanjoTeacher.com membership, banjo straps and other freebies. Free items vary depending on what type of banjo.
*Call Ross with questions and advice or to change what's incuded with each purchase.
*Free US lower 48 state shipping on ALL models! Alaska and Hawaii receive $25 ship credit
* International orders receive $25 shipping fee credit. Email for a international shipping quote * Call Ross for more information on banjos at 1-866-322-6567 Visa/MC/Discover/AM Express/Paypal

Most banjo's include cases but if you need to add a case go to this page and add one to your order.
Case prices are slashed down to our cost but are only available to customers when purchasing banjos, cases not sold separately.
Case options link


We ship to Canada, Germany, Philippines, Iraq, Italy, Japan, UK, Ireland, Australia, New Zealand.
We will ship just about anywhere!

Thank you! .....When I opened the case, the banjo was perfectly in tune and had a straight neck. It sounds great and I'm very pleased with the product. I am even more pleased with your communication with regard to my purchase. P.S. Thanks for the book too.
More Reviews

Goldtone Banjos come set up, tuned and ready to play!
In addition to your Goldtone Banjo arriving set up and ready to play,
The Fundamentals of Five String Banjo DVD that comes free with most banjo's
has a segment that shows you clearly how to keep your banjo in tune.
Fundamentals of Five String banjo also features a segment called Basic Banjo Set Up
that explains how to keep the head tight, change strings and other maintenance tips.

Visa, Mastercard, Discover American Express, Paypal Accepted

Details on ordering Gold Tone Banjos online from BanjoTeacher.com and FAQ

BanjoTeacher.com prices includes free US shipping, or international shipping credit,
complete banjo set-up with other free items listed on each banjo's individual page.

For phone orders and more information on GoldTone Banjos at BanjoTeacher.com
Call 1-866-322-6567 10 AM to 10 PM EST 7 days a week