Gold Tone OT-800
Open Back Banjo for Clawhammer and Frailing styles
OT 800 Old Timey Banjo




for Clawhammer and Frailing style banjo playing


This Vega style replica is an accurate reproduction of the most sought after pot in the classic Old Time sound.  A metal bracket band contains the lug bolts avoiding holes in the rim for a solid tone. The  brass Tubaphone style tone ring rings loud and clear with maximum sustain. Classic style engraved  inlays,  maple neck and rim, adjustable coordinator rods (instead of a dowel stick), and our new Fairbanks style headstock

Instruments come set up and ready to play

Includes deluxe hard case and free shipping

Features


Neck - Double Coordinator Rods

Fingerboard - Ebony
Fingerboard Inlay - Vega style with Egraving
Headstock Inlay - Star with Engraving

Rim - 1/2 Sound Chamber
Bridge - Maple Ebony Cap
Tuners - GT Master Planets
Bone - Nut



OT 800 banjo customer from Australia
...HI Ross, just want to let you know the banjo arrived today in excellent condition, very happy with the set up and sound of the banjo. Thanks for all your help and prompt service. Regards Paul.


These items pictured below are
Free at BanjoTeacher.com with this purchase.




Free Book/CD/DVD
with purchase
Comprehensive Beginner Clawhammer DVD FREE.
If you are not a beginner email me after purchase and I'll send you his songs DVD Free instead. Calling us is ok too

click for dertails

Free one year membership to BanjoTeacher.com


BanjoTeacher.com members site now has over 90 free videos, 50 lesson and song videos with matching tab, over 100 free tab files, more than 50 Ask the Banjo Teacher columns and instruction articles

click for details

Free Hard Case

Your banjo either comes with this free deluxe TKL hard shell case, reg retail price 149.95

click for details

New Clip-on Gold Tone Tuner
Goldtones new innovative tuner is the best Clip-on tuner available for banjo.

Retail price is $30

click for details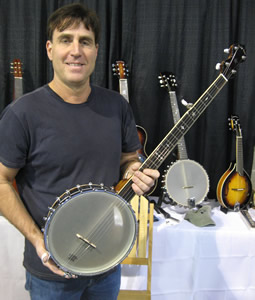 Hear sound clips

Demo Videos
Banjos come set up and ready to play
Each banjo is played before it leaves the shop!
Along with the strict quality control that Goldtone is known for and the banjos being
checked very carefully before being shipped, each banjo is given a 12 point inspection,
full head tuning, setup and will arrive tuned and ready to play.
Goldtone OT 800 Reveiws
The OT-800 LN arrived yesterday -- everything else had arrived a few days before.  It is exactly what I was hoping for -- wonderful instrument. 
Thank you for recommending it. Also (as you would already guess) the BanjoTeacher.com leather strap you sent is very good -- very well made, solid, fits like a harness (a good thing) and holds the instrument perfectly.  Again -- many thanks.  Wonderful instrument, arrived on time, in one piece, ready to play, and with a beautiful sound.  I am passing the CC-100+ to my son, who is a better musician than I am.  I expect him to pick it up quickly and to be back to you
for another upgrade in another six months or so.

Hi Ross I just wanted to drop you a line and let you know that I received my OT-800 Gold Tone set up and ready to play. I am delighted with this banjo! It is incredibly responsive, has a beautiful tone and is everything I had hoped for! Keep up the good work, Ron Morgan Beaverton Oregon

Ross, I received the GoldTone OT-800 Long Neck a few days ago. It's terrific and exactly what I wanted. The tone is absolutely perfect, as is the action. I used to own a Vega long-neck Seeger model that was stolen decades ago, and always wanted to replace it. I didn't want to spend the 3-$4000 that they now cost at Deering and other sites that sell old Vega models. This Gold Tone is a top of the line instrument that has the old time sound and a rich, robust sound that can't be beat. I would recommend it to anyone who wants a folk or old time banjo and doesn't want a flimsy instrument. It was a pleasure dealing with you. And those trailing finger picks you sell are also phenomenal. They're better than anything else I've come across.
Best Ron Radosh
 
What's Included with your Banjo Purchase at BanjoTeacher.com
BanjoTeacher.com prices are 25% off the retail price and include free US shipping,
complete banjo set-up and other other free items listed on each banjo's individual page.
Call Ross if you have questions or need advice.
I personally answer all calls and if I am on the other line, I return calls promptly.
Callers can also choose another DVD or substitute free items
Call toll free: 1-866-322-6567
Perfect Touch Clawhammer Finger Pick
Handcrafted in the Mountains of Tennessee

Rusty Thornhill has applied his innovative skills to the needs of the clawhammer picker. With this, the clawhammer picker can pick for hours or days without fear of broken, split or worn fingernails.

A single metal clawhammer pick designed and crafted for extra comfort and ease of use. Avoid the discomfort of pinched-on picks, hangnails, and pick collisions. Details
Old Time Banjo Instruction
Gold Tone OT-800 Long Neck

The Old Tone 800 Long Neck (0T-800LN) is the ultimate longneck banjo. This tubaphone style longneck is tuned 1 1/2 steps lower for the best singing keys. A great folk style banjo, it closely resembles Mr. Seegers famous plunky tone, a sound desired by songsters. The engraved inlay is set off by the ebony fingerboard and the pot includes a bracket band for a loud sustaining tone.

The Gold Tone 0T-800 incorporates a fitted metal bracket band to an 11'ÄĚ maple rim in which the shoe lugs bolt directly to the bracket band instead of the wood rim allowing for a more solid tone and increased sustain. The 32-hole brass Tubaphone-style tone ring allows the sound to ring loud and clear with maximum sustain. Improvements to the original classic design include dual coordinator rods (instead of a dowel stick) for a solid neck fit and easy adjustment capabilities. Other features include a maple neck with bound ebony fingerboard with frailing scoop, a classic engraved fingerboard inlay design, a Fairbanks-style headstock, 11'ÄĚ Renaissance banjo head, and a No Knot tailpiece.

Instruments come set up and ready to play

Includes deluxe hard case and free shipping

Features



Neck - Maple Double Coordinator Rods
Fingerboard - Ebony
Bridge - Maple/Ebony Cap Compensated
Wood Finish - Vintage Mahogany
Headstock Inlay - Star w/ Engraving
Neck Binding - Creme Celluloid
Gold Tone OT-800 Long Neck


Includes free U.S. shipping and all items above
$1350


For Phone orders and more information on
Gold Tone Banjos at BanjoTeacher.com
Call - 1-866-322-6567
Email us
Visa/Mastercard/Discover/Paypal
Old Time Banjo Instruction
GOLDTONE MODELS AND ACCESSORIES TOO!
*We have most of the models pictured and priced on the website but if you don't see it, we still carry it, and at the lowest price. FAQ
*Check out the pop out links on the right!
*COMPARE OUR PRICES AND ALL WE OFFER WITH EACH PURCHASE - *GOLDTONE BANJOS INCLUDE PROFESSIONAL SETUP A $30 VALUE *Free with banjo purchases We have free Book/CDs/DVDs, on board tuners, free banjo lessons with BanjoTeacher.com membership, banjo straps and other freebies. Free items vary depending on what type of banjo.
*Call Ross with questions and advice or to change what's incuded with each purchase.
*Free US lower 48 state shipping on ALL models! Alaska and Hawaii receive $25 ship credit
* International orders receive $25 shipping fee credit. Email for a international shipping quote * Call Ross for more information on banjos at 1-866-322-6567 Visa/MC/Discover/AM Express/Paypal

Most banjo's include cases but if you need to add a case go to this page and add one to your order.
Case prices are slashed down to our cost but are only available to customers when purchasing banjos, cases not sold separately.
Case options link


We ship to Canada, Germany, Philippines, Iraq, Italy, Japan, UK, Ireland, Australia, New Zealand.
We will ship just about anywhere!

Thank you! .....When I opened the case, the banjo was perfectly in tune and had a straight neck. It sounds great and I'm very pleased with the product. I am even more pleased with your communication with regard to my purchase. P.S. Thanks for the book too.
More Reviews

Goldtone Banjos come set up, tuned and ready to play!
In addition to your Goldtone Banjo arriving set up and ready to play,
The Fundamentals of Five String Banjo DVD that comes free with most banjo's
has a segment that shows you clearly how to keep your banjo in tune.
Fundamentals of Five String banjo also features a segment called Basic Banjo Set Up
that explains how to keep the head tight, change strings and other maintenance tips.

Visa, Mastercard, Discover American Express, Paypal Accepted

Details on ordering Gold Tone Banjos online from BanjoTeacher.com and FAQ

BanjoTeacher.com prices includes free US shipping, or international shipping credit,
complete banjo set-up with other free items listed on each banjo's individual page.

For phone orders and more information on GoldTone Banjos at BanjoTeacher.com
Call 1-866-322-6567 10 AM to 10 PM EST 7 days a week