Gold Tone CC 50 Travel Banjo
CC 50 TR Travel Banjo


from Goldtone Banjos and BanjoTeacher.com


The CC-50TR is an affordable open back traveler for kids and on the road use. Although is is an A scale (we've eliminated the first two frets), medium gauge installed strings will easily tune to G bluegrass type tuning.

This banjo is perfect for carrying on airplanes and taking along with you on trips. It's also an easy banjo to have close by to pick up and practice anytime. Ross Nickerson

Free US Shipping

Banjo comes set up and ready to play

Includes gig bag

Features

Tuners - Guitar Style
Neck - Maple
Fingerboard - Rosewood

Tailpiece - Straight line
Tone Ring - Brass
Plating - Chrome
These items pictured below are
Free at BanjoTeacher.com with this purchase.
These items pictured below are
Free at BanjoTeacher.com with this purchase.


Free Book/CD/DVD
with purchase
Comprehensive two hour Beginner DVD with 52 page book and two audio CDs. a 29.95 value.
c;ick for details


Free one year membership to BanjoTeacher.com


BanjoTeacher.com members site now has over 90 free videos, 50 lesson and song videos with matching tab, over 100 free tab files, more than 50 Ask the Banjo Teacher columns and instruction articles.
click for details


Immediate Access to Beginner Online Banjo Lesson Option 1 as soon as you purchase the banjo. Includes high quality Video, Audio and Tablature.
You'll be learning banjo before you know it.

12.95 value

click for details

Free case

Your banjo comes with a free padded banjo gig bag. Retail price 39.95

click for details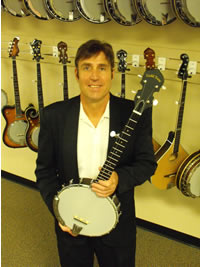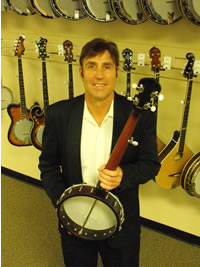 CC 50 TR travel Banjo Reviews
CC 50 TR Ross, Arrived A-OK. Very please on all accounts with this instrument. Thanks again, gValet
Hi Ross,  The CC 50TR arrived today and it is great! I'm definitely taking it to Ireland.
I think I'll call it a "parlor banjo" and play it for gigs. Thanks again! Patty McCollom

Thank you, thank you, thank you!! You are very kind to respond to me -- on a Saturday afternoon, yet. I just tuned my banjo to bluegreass G, and it sounds great (to the novice!). It's a great little banjo, just right for me. I have printed out your book from the CD and have been working on some rolls. Now I can watch your DVD and play along with you, just settle down and start learning to play this little guy. Thanks for the great customer service. You are fabulous! Linda Gerstein


Hi Ross, I received my CC 50 travel banjo yesterday! It looks amazing and sounds great too! The planetary tuners really make it look nice. Thank you so much for all your help! I've already started on the lessons and can't wait to go home this afternoon to practice more.
Thanks again,
Robyn Clark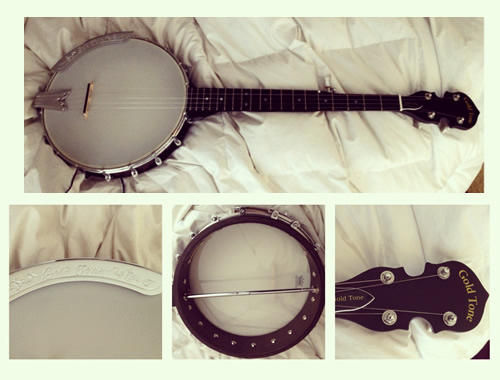 Purchase from an expert
The large corporate chains don't ship Goldtone banjos set up and ready to play.
Their employees don't play banjo and know nothing about them.
Purchase at Banjoteacher.com from an expert!
Demo Videos of Ross Nickerson Playing the CC50TR
What's Included with your Banjo Purchase at BanjoTeacher.com
BanjoTeacher.com prices are 25% off the retail price and include free US shipping, complete banjo set-up and other other free items listed on each banjo's individual page.
Call Ross if you have questions or need advice.
I personally answer all calls and if I am on the other line, I return calls promptly.
Callers can also choose another DVD or substitute free items
Call toll free: 1-866-322-6567
Demo Video Homepage
Banjos come set up and ready to play
Each banjo is played before it leaves the shop!
Along with the strict quality control that Goldtone is known for and the banjos being checked
very carefully before being shipped, each banjo is given a 12 point inspection, full head tuning,
setup and will arrive tuned and ready to play.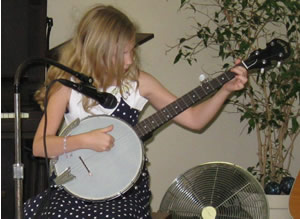 CC 50 TR Travel Banjo

Includes free U.S. shipping and all items above in the table. Book/CDs/DVD, free one year membership, online lessons, and gig bag case.
$345


Other Options
*
Add Beginners Package Deal
30.00

Beginner Package Details
*
Substitute Heavy Padded Bag

The CC 50TR comes with a free gig bag tha works fine but if you decide want a heavier padded bag, I discounted them from the retail of $85 to $42 for the CC 50TR.
$42

*
Or Substitute a Hard Case
Add American Made TKL Hardshell Case in place of the free padded gig bag for only $84 when purchasing the CC 50TR
Special substitute hard case price $84

*
Add Planet Pegs
Adding Planetary Tuning Pegs for only
39.00
is a great deal and a great way to make the banjo look a lot classier and tune easeir too.

*
Lefties
For Left handed CC 50 traveler travel banjo add
40.00

GOLDTONE MODELS AND ACCESSORIES TOO!
*We have most of the models pictured and priced on the website but if you don't see it, we still carry it, and at the lowest price. FAQ
*Check out the pop out links on the right!
*COMPARE OUR PRICES AND ALL WE OFFER WITH EACH PURCHASE - *GOLDTONE BANJOS INCLUDE PROFESSIONAL SETUP A $30 VALUE *Free with banjo purchases We have free Book/CDs/DVDs, on board tuners, free banjo lessons with BanjoTeacher.com membership, banjo straps and other freebies. Free items vary depending on what type of banjo.
*Call Ross with questions and advice or to change what's incuded with each purchase.
*Free US lower 48 state shipping on ALL models! Alaska and Hawaii receive $25 ship credit
* International orders receive $25 shipping fee credit. Email for a international shipping quote * Call Ross for more information on banjos at 1-866-322-6567 Visa/MC/Discover/AM Express/Paypal

Most banjo's include cases but if you need to add a case go to this page and add one to your order.
Case prices are slashed down to our cost but are only available to customers when purchasing banjos, cases not sold separately.
Case options link


We ship to Canada, Germany, Philippines, Iraq, Italy, Japan, UK, Ireland, Australia, New Zealand.
We will ship just about anywhere!

Thank you! .....When I opened the case, the banjo was perfectly in tune and had a straight neck. It sounds great and I'm very pleased with the product. I am even more pleased with your communication with regard to my purchase. P.S. Thanks for the book too.
More Reviews

Goldtone Banjos come set up, tuned and ready to play!
In addition to your Goldtone Banjo arriving set up and ready to play,
The Fundamentals of Five String Banjo DVD that comes free with most banjo's
has a segment that shows you clearly how to keep your banjo in tune.
Fundamentals of Five String banjo also features a segment called Basic Banjo Set Up
that explains how to keep the head tight, change strings and other maintenance tips.

Visa, Mastercard, Discover American Express, Paypal Accepted

Details on ordering Gold Tone Banjos online from BanjoTeacher.com and FAQ

BanjoTeacher.com prices includes free US shipping, or international shipping credit,
complete banjo set-up with other free items listed on each banjo's individual page.

For phone orders and more information on GoldTone Banjos at BanjoTeacher.com
Call 1-866-322-6567 10 AM to 10 PM EST 7 days a week