Banjo Bridges for Sale at BanjoTeacher.com
Find the best banjo bridge to use for your banjo at Banjoteacher.com.
We carry bridges that work for gibson mastertones, stelling, deering, ome, bellbird, burlile, goldtone, goldstar, morgan monroe, recording kings
and any five string, four string or even six string banjos.

All Banjo Bridges come with a money back satisfaction guarantee.
If it's not an improvement in tone over what you had, please send it back for exchange or refund.


Snuffy Smith Bridge Banjo Bridges for 5-string banjo

The Nick Bridge

The Nick Bridge is handmade by a top banjo bridge builder.
I highly recommend them.
Ross Nickerson, owner BanjoTeacher.com

Sizes and Details
Sosebee 5-String Banjo Bridges

Sosebee Special Submerged Wood Bridges

Made with aged maple & ebony that gives these bridges a deep, warm, well rounded tone. The maple used in this bridge is from excellent Canadian maple.

The tone quality from this bridge is deep and full, yet bright.

The bridge is shaped much like the Snuffy Smith configuration.

Hand-made from centuries-old submerged wood, these bridges are enjoyed by beginners and professionals alike. Made of very old maple that has been submerged for many years, thus improving the acoustic qualities of the wood.

The tonal quality is deep and warm, with plenty of power and clarity.

Gary Sosebee makes these out of the best wood he can find for making a custom banjo bridge.
He tests them and has had other top banjo players test them as well. I have tried them and think they sound great. Ross Nickerson
Details and sizes
Quality Banjo Bridges from BanjoTeacher.com

Here you can choose from 5-string, 4-string, or 6-string banjo bridges.
These would be an improvement over most bridges that come standard on banjos.
Ross N.

Sizes and Details

Snuffy Smith Bridges are available again!
Snuffy Smith Banjo Bridges in different sizes
Scorpion Banjo Bridges by Silvio Ferretti

Notes from Silvio Ferretti on his Scorpion Banjo Bridges
If you are a discriminating player, no matter if you've got a 30 plus years experience on the banjo (like me) or not, you will surely agree about the importance of the bridge in determining the sound, in all of its components: response, volume, tone and so on.
details
Nechville Enterprise Bridge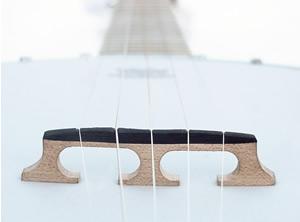 Banjo bridges for radius fingerboards are hard to come by and these are really good ones.
details
Grover Banjo bridges at BanjoTeacher. Proven quality at a low price.

GROVER BANJO BRIDGE

5-STRING OR 4-STRING

EBONY 5/8" OR 1/2" Grover Maple,

Fine Quality Since 1922

Bluegrass Banjo Bridges 5/8" High,

3-Legged Maple With Ebony Strip 

5'8's size is the most common size and likely what you need but grover is also a source for the shorter 1/2 inch bridge size that some banjos require. These are an excellent low cost alternative to the more expensive premium bridges we carry. I use the

Nick Bridge

now but these bridges have served banjo players well for many years. If you dont have an expensive banjo this would be the best price on a wood banjo bridge.

Details and to purchase