BG-150F
BG-150F
from Goldtone Banjos and BanjoTeacher.com


Our new midline, full size, bluegrass banjo includes features typical of our pro model. This would also be an excellent instrument for players looking for a lighter weight bluegrass banjo. This instrument is the next step above our CC models and uses a one piece flat flange and has a full size 14 inch resonator.

Features

Neck - Maple
Fingerboard -Rosewood
Resonator - Mahogany
Headstock Inlay - GT Original
Tailpiece - Straight Line
Bridge - Maple with Ebony cap
Neck Binding - ABS white
Wood Finish - Vintage Brown



Instrument comes set up and ready to play.

Free US Shipping with Banjo

Demo Videos Below
These items pictured below are Free at BanjoTeacher.com with this purchase


Free Book/CD/DVD
with purchase
Comprehensive two hour Beginner DVD with 52 page book and two audio CDs. a 29.95 value.

click for details



Free one year membership to BanjoTeacher.com


BanjoTeacher.com members site now has over 90 free videos, 50 lesson and song videos with matching tab, over 100 free tab files, more than 50 Ask the Banjo Teacher columns and instruction articles.

click for details



Immediate Access to Beginner Online Banjo Lesson Option 1 as soon as you purchase the banjo. Includes high quality Video, Audio and Tablature.
You'll be learning banjo before you know it. 12.95 value

click for details

Free case

Your banjo comes with a free padded banjo gig bag. Retail price 39.95

click for details
Add the Beginner Package deal and get these additonal items


see pricing below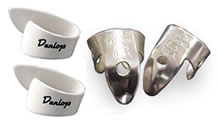 A Banjo Strap, Set of Picks, a Korg Chromatic Tuner, an Extra Set of Strings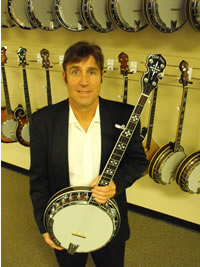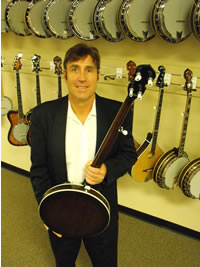 Reviews

BG 150F Banjo customer from Spain
The banjo arrived good. It sounds gorgeous, Jonathan

Military Customer in Afghanistan who ordered banjo through APO
Banjo arrived today!! So happy to have it, I'm very grateful for the advice and instructional videos, will be watching one tonight and starting my practice, thanks so much!
-Scott Koehler

…Ross: I received my Gold Tone BG150-F w/ hardshell case today. What an excellent instrument for the price! The intonation is perfect, action is good - it has a great solid "feel" to it, sounds and looks great, especially compared to the "cheapo" banjo I was learning on. The DVD's you sent me are excellent, too (Banjo Jamming and Playing Banjo by Ear). I received everything a day earlier than planned. Thanks again for your help and great service!   Kevin Slagg. The Kid and Nic Show www.kidandnic.com


…
…Ross, I know that I am extremely biased…but…this last week I held and played a custom made banjo…valued at $2900…I like my Gold Tone BG 150 F. I thought it felt better and sounded just as good! So…after 2.5 years I still like my banjo! Have a good day!
.......Ross: Thank you! Received the instrument this afternoon. So glad I took your advise on the upgrade to the BGF150F. At that price point, this instrument is gorgeous! Setup looks, feels and sounds great. Can't wait to get into the learning experience. Wish me luck.
Dennis Perry, Amherst, NY

BG 150F review with Zero Glide
.....The BG-150F is a great banjo, I'm glad I stepped up a few notches and decided on it...... The Zero Glide nut is great. I'll probably be ordering one for my guitar before the end of summer. Thanks for everything. Marion Hammond
I wanted to let you guys know that I received my new BG 150F. it had actually arrived on Feb
24/11, I ordered it on Feb 17/11 it was shipped on the 18th,it arrived it perfect condition
extremely well packed. Was much nicer than I was hoping for, it is a beautiful little Banjo and I
sounds great. All I had to do was tune it a bit and it was good to go. Thanks so much guys,
you and Gold Tone get 5 stars.
Thanks again. One very happy customer Mike Foster
P.S The upgraded hard case is well worth the $69.00, very nice case
.
Hi Ross, I received the BG-150F banjo and it was in perfect condition and in tune. The action is lower than my 1980 Stelling and I know the Stelling needs an adjustment. The BG-150F is easy to play, the tone is pleasant, and looks and feels like a masterpiece. Thank you Ross for recommending it . I hope to attend a workshop in Florida and keep me on your email list. Ralph Affinito  I will be in Naples this winter and if you know any teachers in that area please let me know. I have all your CD's , Dvd's , and books and will check into lessons on line.
.....Ross, Got my Gold Tone BG 150 F yesterday afternoon…how beautiful!
Free time this weekend will be spent wisely!
Thanks for everything!
Jim
We received the BG 150F. It's gorgeous! It sounds beautiful. We're looking forward to
learning how to get more beautiful sounds out of it. Thank you very much, Chris

......Hi Ross, A couple of month's back I purchased a Gold Tone BG150-F from you, and today
just ordered the Banjo Encyclopedia as well. I just wanted to let you know that the learning
process has been going great! I'm just finishing up with the "Fundamentals" book and figured
it was time to step up to the next level. I couldn't be happier with the BG150. The tone and
quality of the instrument are perfect for my needs, and I've never had more fun learning an
instrument in my life. Who says an old dog can't learn new tricks? Your instruction books and
videos help make the learning experience smooth and satisfying. Thanks for everything.
See you around the WEB. Sincerely, Will Renfro Ross,

..... I did a fair amount of research before I decided to buy  the Gold Tone BG-150F from you. 
I had narrowed my choices down to the BG-150 and the Morgan Monroe Cascade, both were
within my price range, but when I heard you playing the Gold Tone in the demo video on your
site, I was sold on the tone right away. I was also very impressed with your 'service after the
sale', which to me, is very important. (I'm going to need all the help I can get!) Anyhow,
thanks for the response, and I'm looking forward to spending a lot of time at your site
over the next year or so. Â  Sincerely, William Renfro

Hey Ross,
I got the banjo and its great!!Looking forward to getting started with the dvd.Thanks again.GW


….Hi Mr. Ross, I got my banjo today. Don't know how you got it here so soon I was expecting
it 1st or 2nd week of March. Thanks so much! It is beautiful. I will be contacting you
in a few days I would Like the banjo encyclopedia book and some others but have not
made up my mind yet. Thanks again. Jam
Left Handed Goldtone BG 150 F Reveiw
Hi Ross. I recerved the GOLD TONE BG150 Its a piece of art and craftsmen ship all in one and it sounds great.
Thank you for all your help! .....Thanks Bill
Purchase from an expert
The large corporate chains don't ship Goldtone banjos set up and ready to play.
Their employees don't play banjo and know nothing about them.
Call Banjoteacher.com and purchase from an expert.
What's Included with your Banjo Purchase at BanjoTeacher.com

BanjoTeacher.com prices are 25% off the retail price and include free US shipping,
complete banjo set-up and other other free items listed on each banjo's individual page.
Call Ross if you have questions or need advice.
I personally answer all calls and if I am on the other line, I return calls promptly.
Callers can also choose another DVD or substitute free items
Call toll free: 1-866-322-6567
Demo Video Homepage
Banjos come set up and ready to play
Each banjo is played before it leaves the shop!
Along with the strict quality control that Goldtone is known for and the banjos being checked very carefully before being shipped,
each banjo is given a 12 point inspection, full head tuning, setup and will arrive
tuned and ready to play.
GOLDTONE MODELS AND ACCESSORIES TOO!
*We have most of the models pictured and priced on the website but if you don't see it, we still carry it, and at the lowest price. FAQ
*Check out the pop out links on the right!
*COMPARE OUR PRICES AND ALL WE OFFER WITH EACH PURCHASE - *GOLDTONE BANJOS INCLUDE PROFESSIONAL SETUP A $30 VALUE *Free with banjo purchases We have free Book/CDs/DVDs, on board tuners, free banjo lessons with BanjoTeacher.com membership, banjo straps and other freebies. Free items vary depending on what type of banjo.
*Call Ross with questions and advice or to change what's incuded with each purchase.
*Free US lower 48 state shipping on ALL models! Alaska and Hawaii receive $25 ship credit
* International orders receive $25 shipping fee credit. Email for a international shipping quote * Call Ross for more information on banjos at 1-866-322-6567 Visa/MC/Discover/AM Express/Paypal

Most banjo's include cases but if you need to add a case go to this page and add one to your order.
Case prices are slashed down to our cost but are only available to customers when purchasing banjos, cases not sold separately.
Case options link


We ship to Canada, Germany, Philippines, Iraq, Italy, Japan, UK, Ireland, Australia, New Zealand.
We will ship just about anywhere!

Thank you! .....When I opened the case, the banjo was perfectly in tune and had a straight neck. It sounds great and I'm very pleased with the product. I am even more pleased with your communication with regard to my purchase. P.S. Thanks for the book too.
More Reviews

Goldtone Banjos come set up, tuned and ready to play!
In addition to your Goldtone Banjo arriving set up and ready to play,
The Fundamentals of Five String Banjo DVD that comes free with most banjo's
has a segment that shows you clearly how to keep your banjo in tune.
Fundamentals of Five String banjo also features a segment called Basic Banjo Set Up
that explains how to keep the head tight, change strings and other maintenance tips.

Visa, Mastercard, Discover American Express, Paypal Accepted

Details on ordering Gold Tone Banjos online from BanjoTeacher.com and FAQ

BanjoTeacher.com prices includes free US shipping, or international shipping credit,
complete banjo set-up with other free items listed on each banjo's individual page.

For phone orders and more information on GoldTone Banjos at BanjoTeacher.com
Call 1-866-322-6567 10 AM to 10 PM EST 7 days a week